W1UJ 40 Meter Moxon Project 2011
Updated 9-May-2012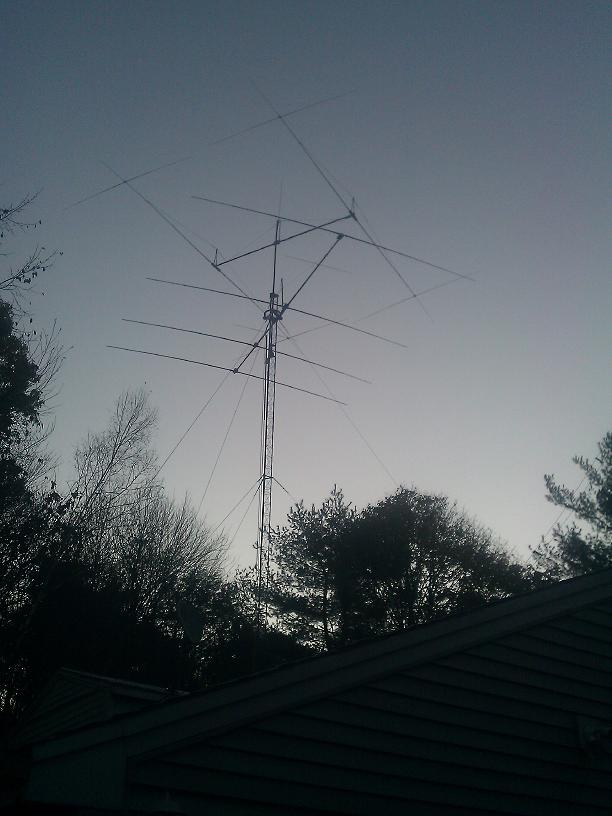 W1UJ 40m Moxon over 4el SteppIR

8P5A Moxon Project Click here

PW7T Moxon Project Click here

K1KP Moxon Project Click here

Comparison to the KB1H Full Sized 40m 3el Dallas and W1UJ/W6NL Moxon Click here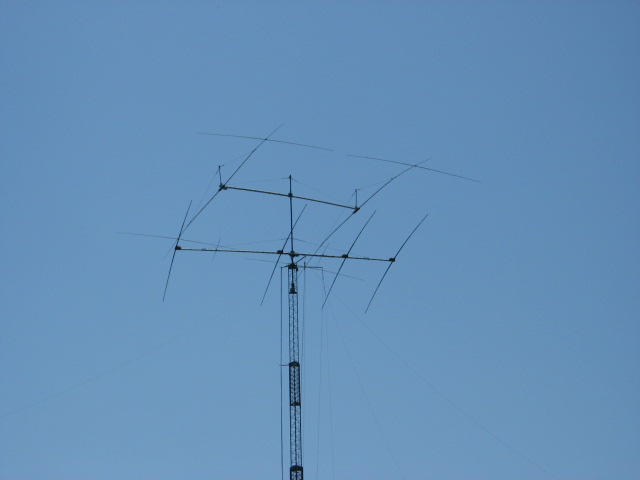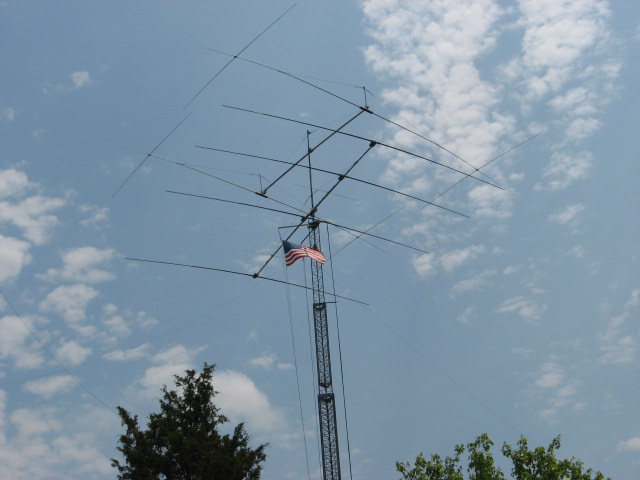 This is K1GU, NedTN's Moxon setup- 4el Steppir below.
The Moxon elements are just under 50' long while each of the 4 'T' elements are about 20' long.
The Moxon Boom length is about 22'
For size perspective, the lower 4el Steppir boom length is 32' while the Steppir elements are about 37' tip-tip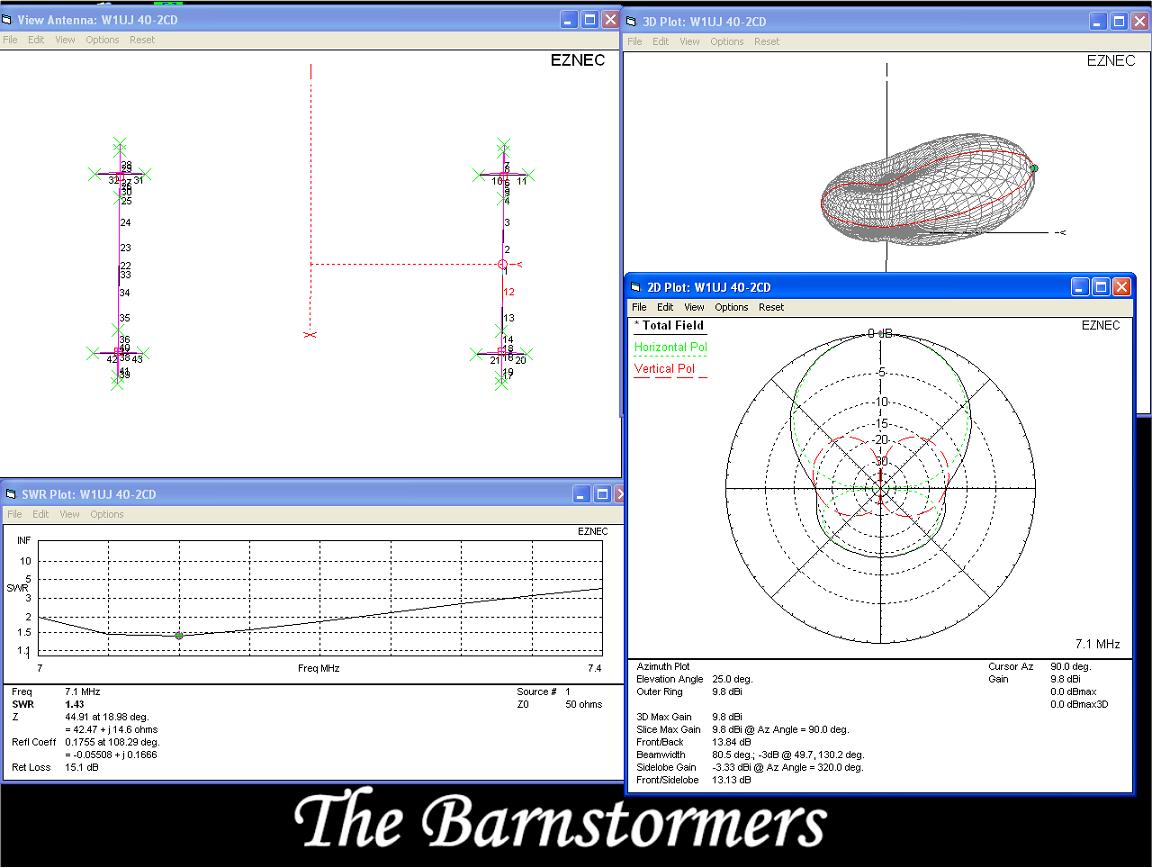 Model of a stock 402cd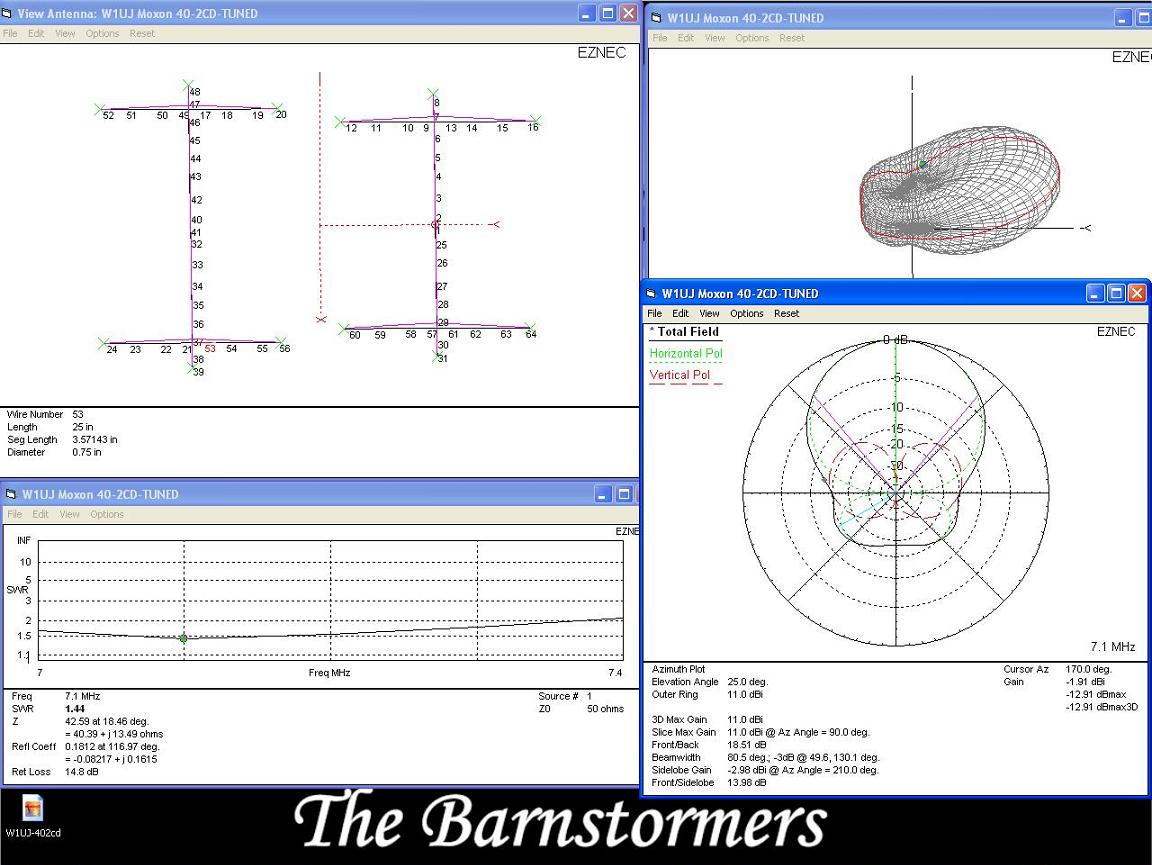 Model of a Moxon, Conceptual


Purchased a 402cd to start the project...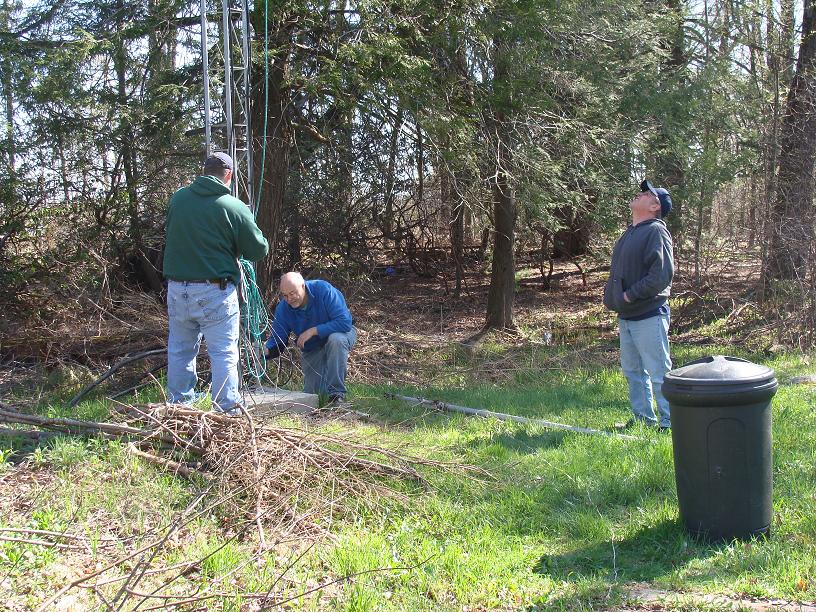 W1UJ KE1IH N1WK Preparing for the day. (KA1IOR Photo)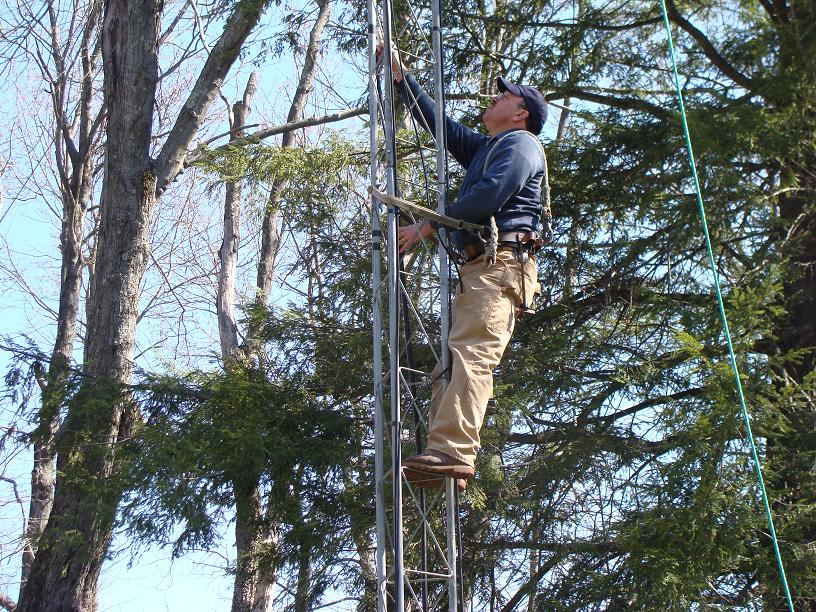 KE1LI Clearing the feedline on the way up. (KA1IOR Photo)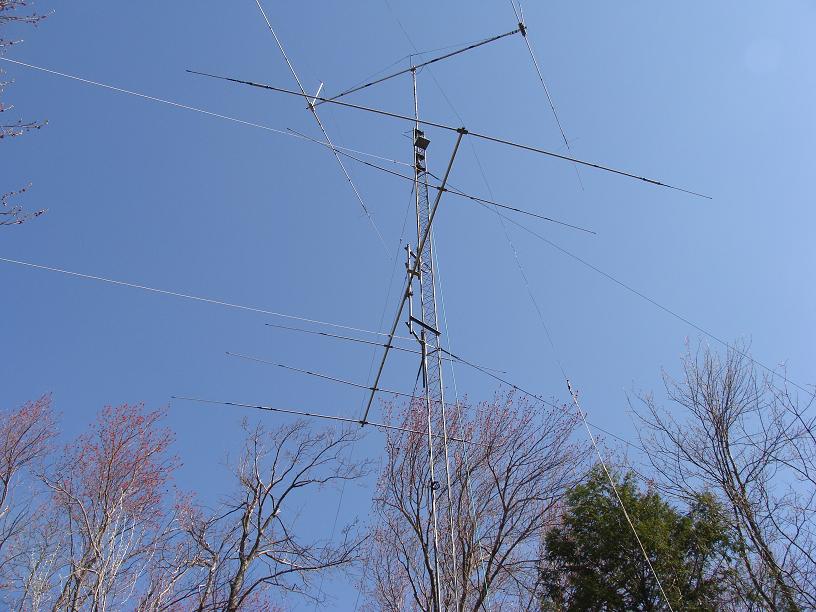 Well, there it is... Here we go again... (KA1IOR Photo)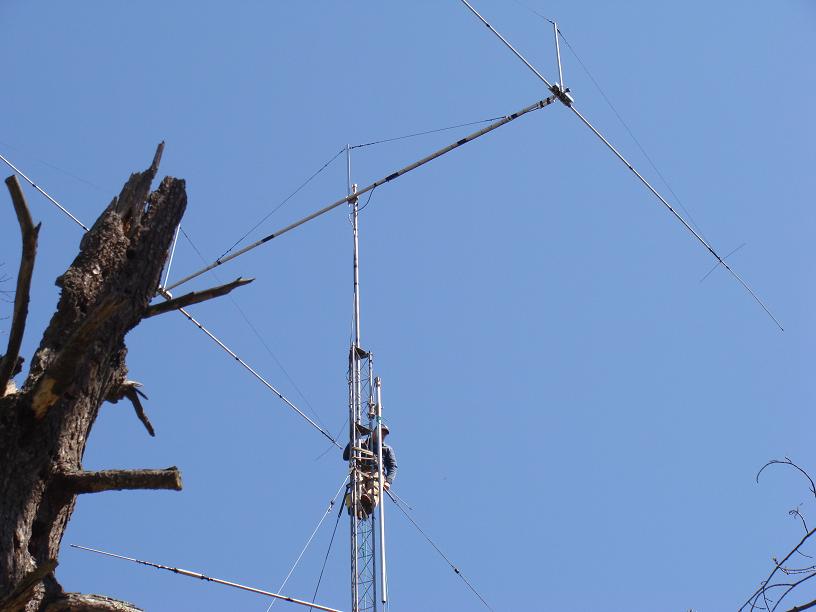 KE1LI lowering the mast. (KA1IOR Photo)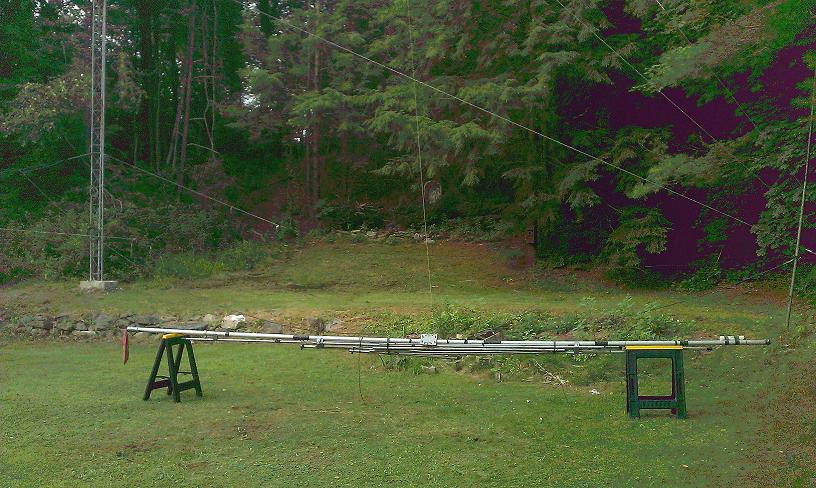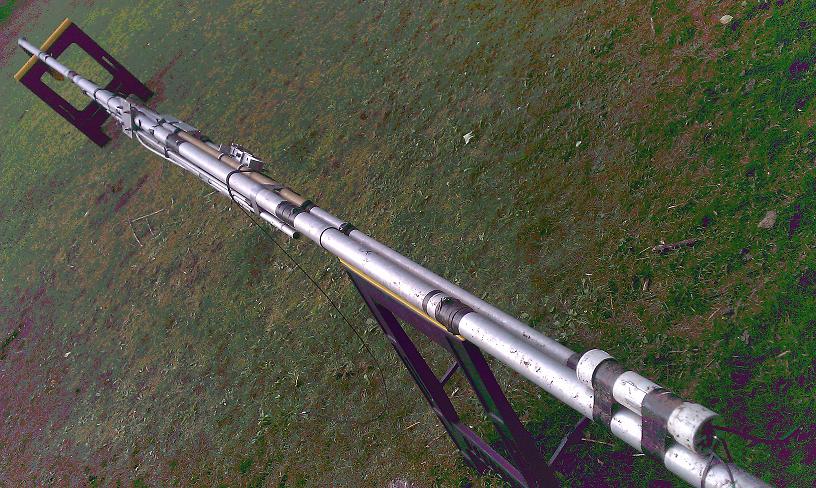 At Home all wrapped up in Webster / FN42bb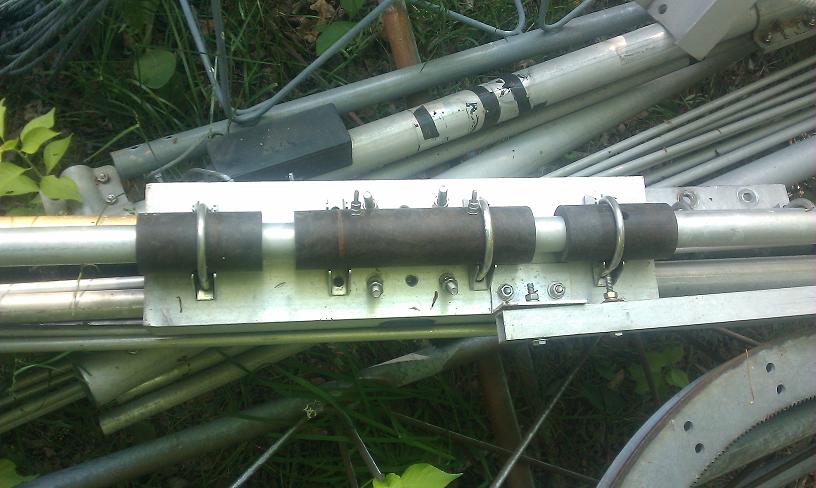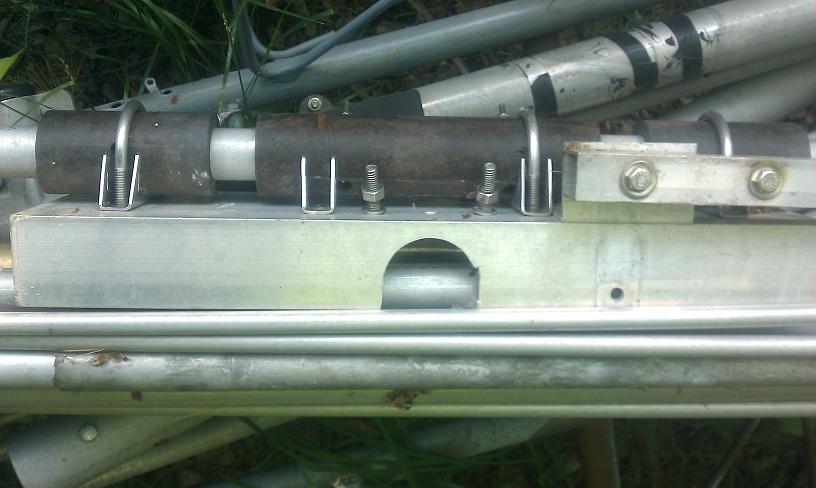 The driven element Element-to-Boom bracket.
This is about the time this turned into a YCCC Club project with K1KP Spearheading the efforts!
Thanks Tony!




Inventory of aluminum. The Red sections are whats needed.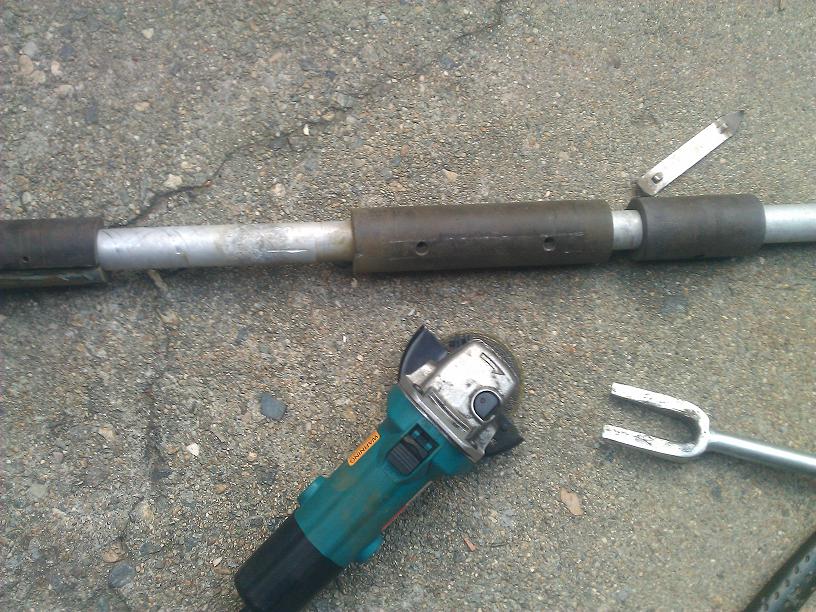 How do I get these insulator things off without damaging things??
POWER TOOLS! Not often permitted for W1UJ....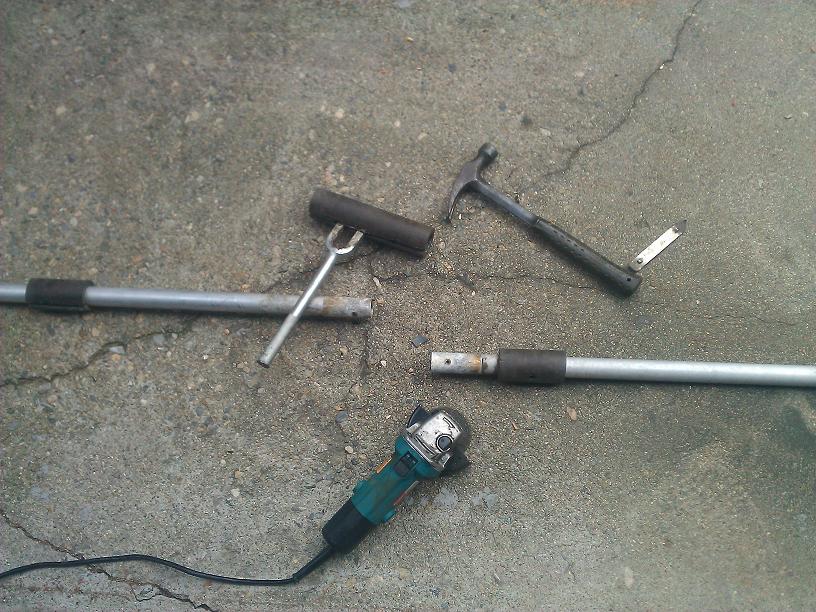 The can opener was not utilized...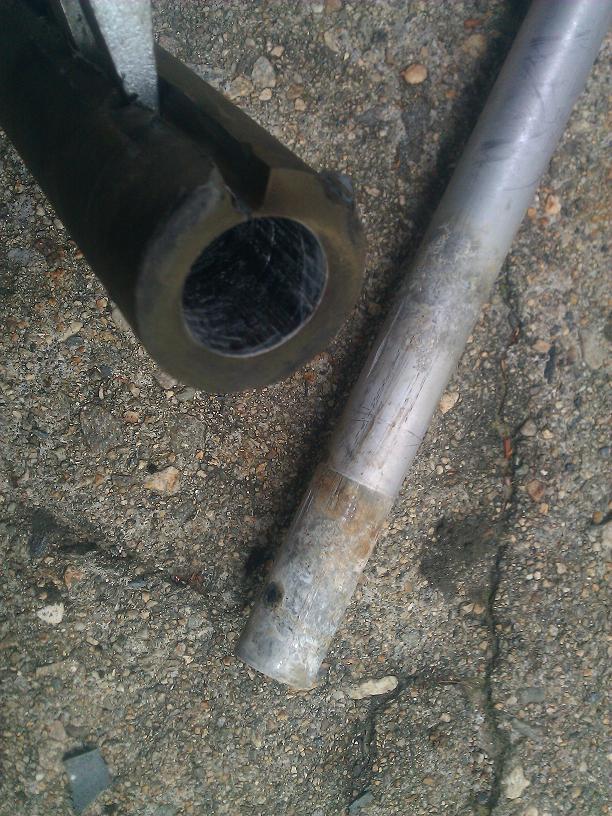 Another reason replacing the insulating mounts was a good decision,
The amount of corrosion under these things was significant.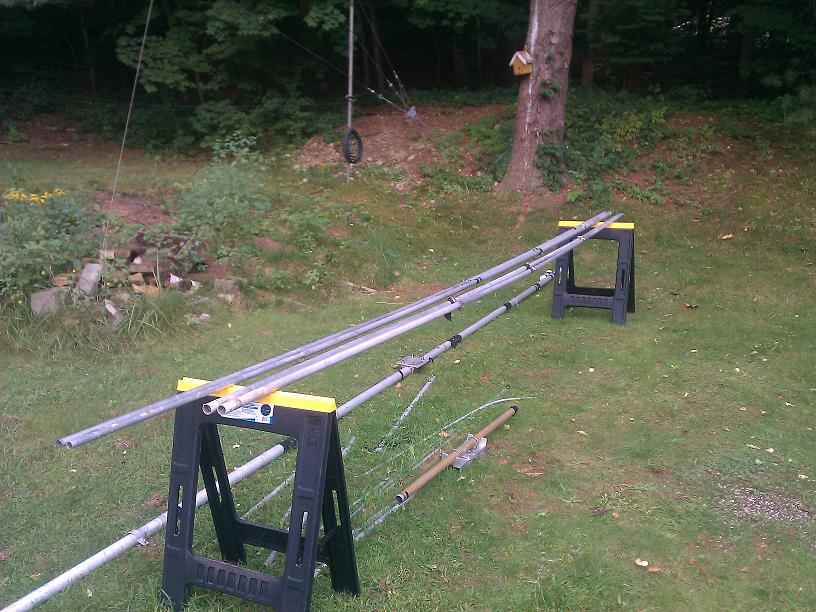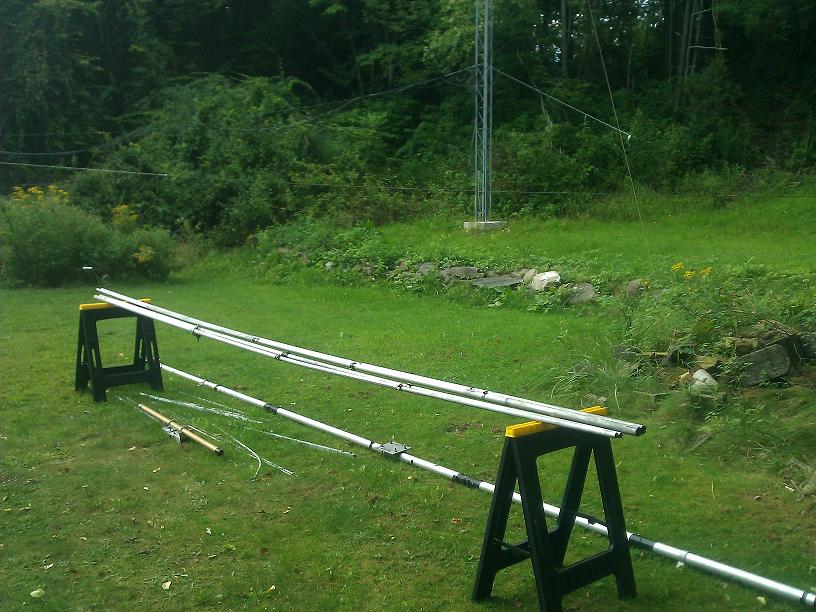 All the aluminum up-to, not including 3/4" and lower pieces! Cycle-24 dot com order placed!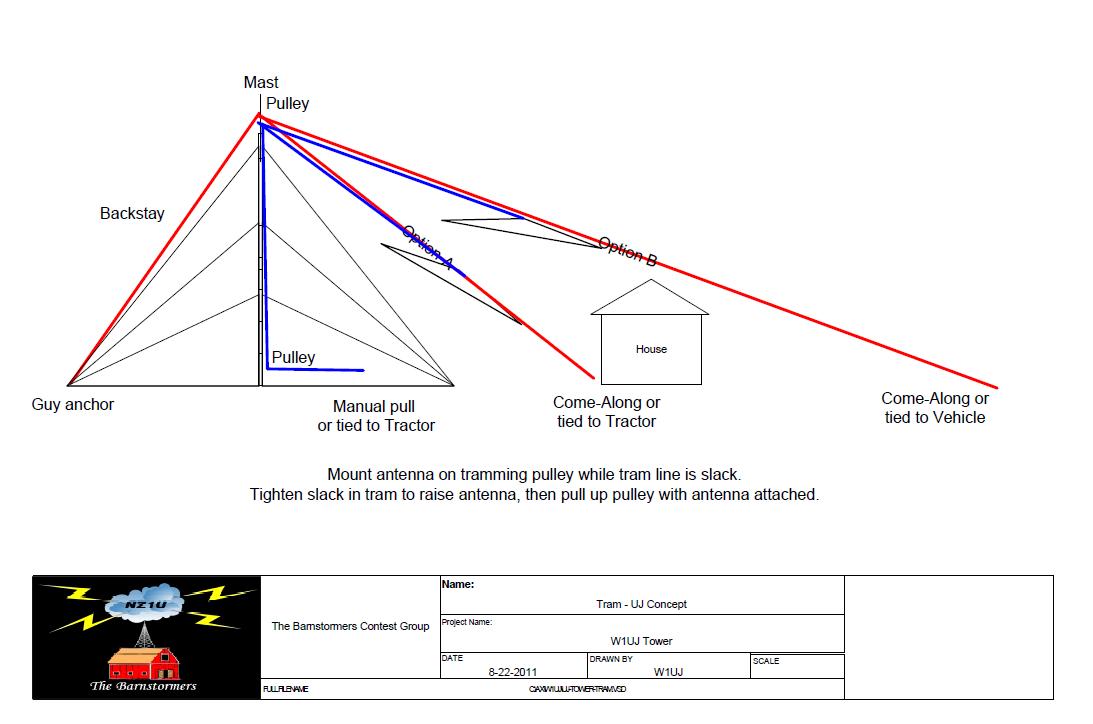 "I dont yet know how to get the thing up there"
First concept on paper Nixed- (Bad to pull tree over on house...TNX K1KP es K1TTT)
This is the second concept...Revision A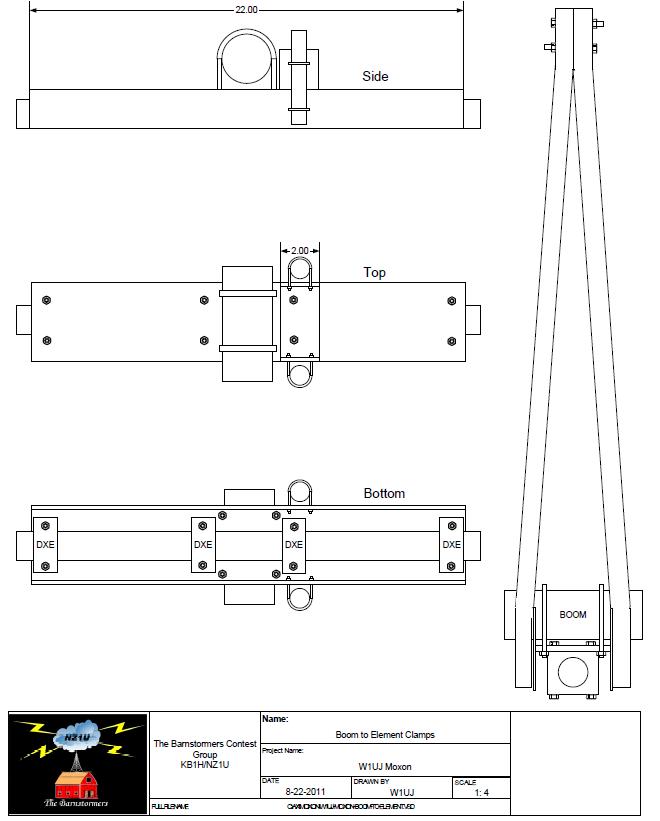 What was imagined for the center support.
Revision A now here, Adds second truss upright to center truss load.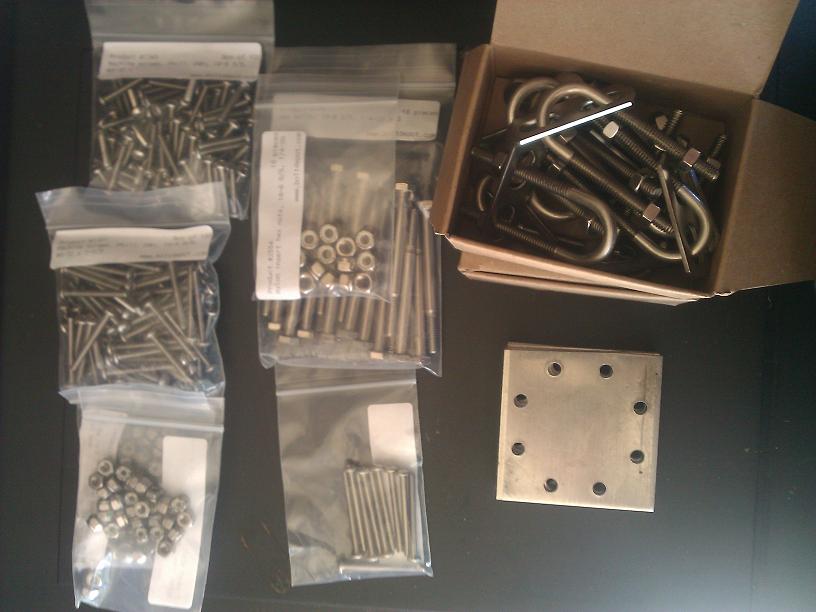 BoltDepot.com ordered at 10am on Tuesday, arrived 1pm Wednesday. All sorted out.
When in MA and ordering from here we have to pay sales tax. Cheaper than paying for overnight shipping!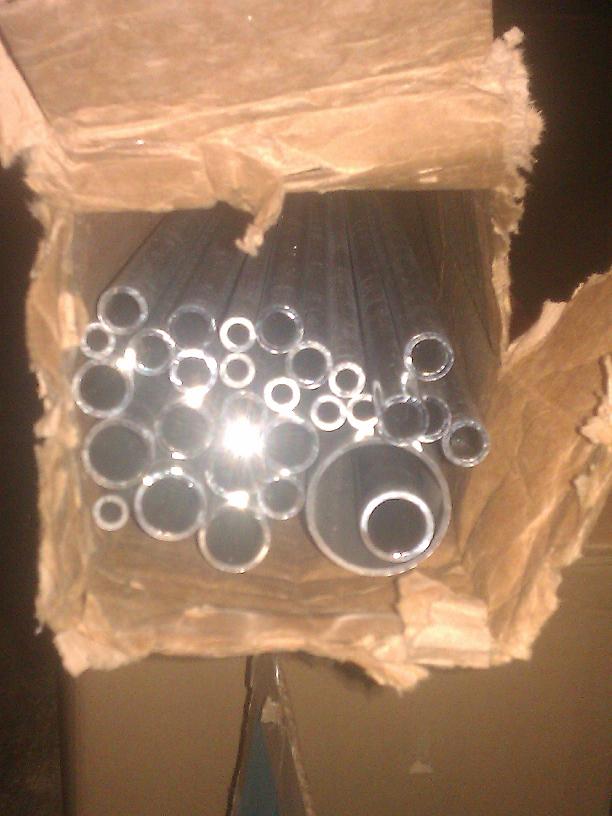 Cycle-24 dot com ALUMINUM ARRIVED! Unfortunately so hasn't Hurricane Irene. Hopefully we will be adding to this!




Drilling Jig arrived! After Ned K1GU said there was difficulty making true holes in the tubing... I found this;
Amazon dot com, and just under $26, so free shipping too! Had it about 3 days after ordering.
The rake is the test subject, Mod #1 to the drilling unit = Tied the chuck-key with a lanyard.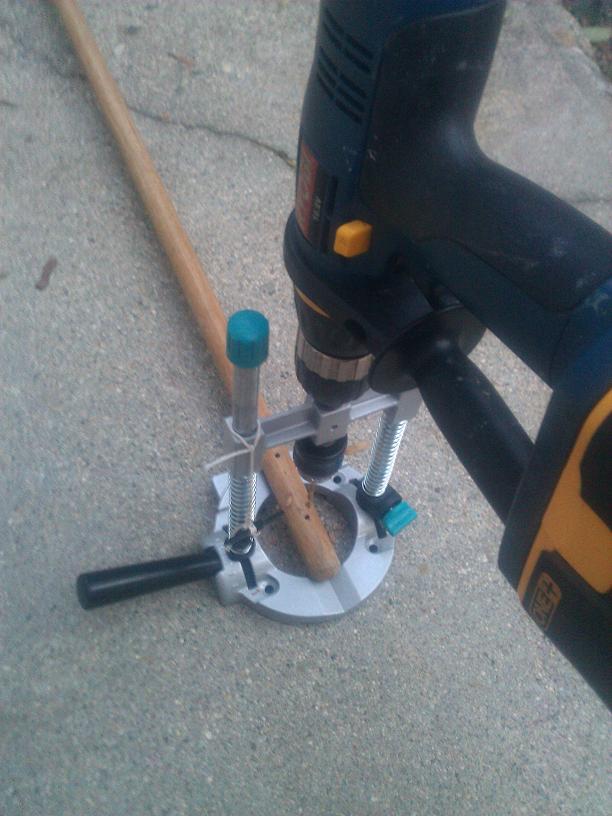 The poor rake..... Works as advertised.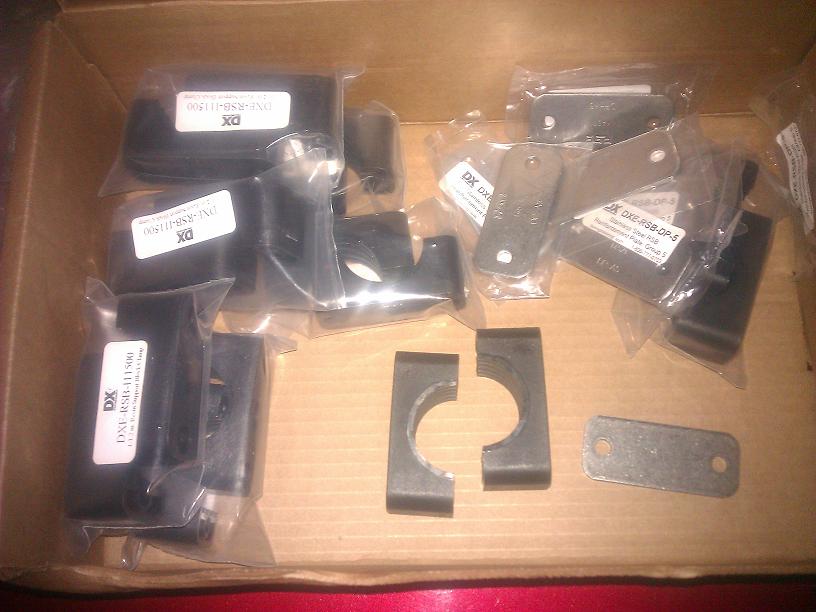 DXEngineering stuff came in today. Looks rugged, size checked all = OK!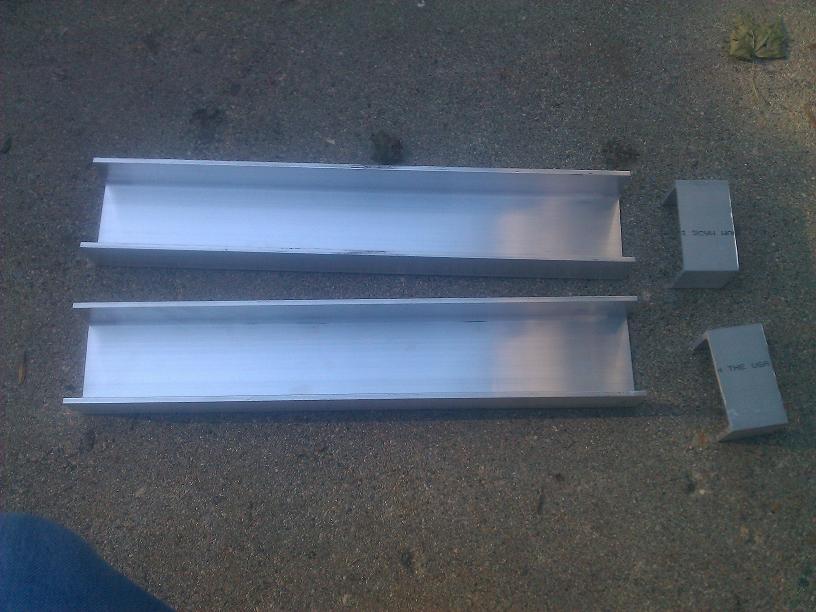 The Channel Aluminum piece.. Seems very robust!
(2) 22" and (2) 2" pieces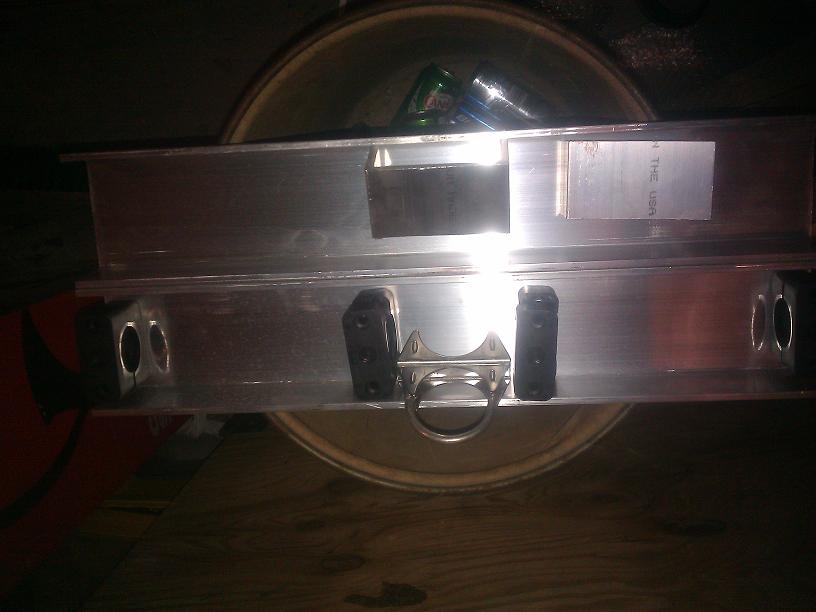 Dry run lineup.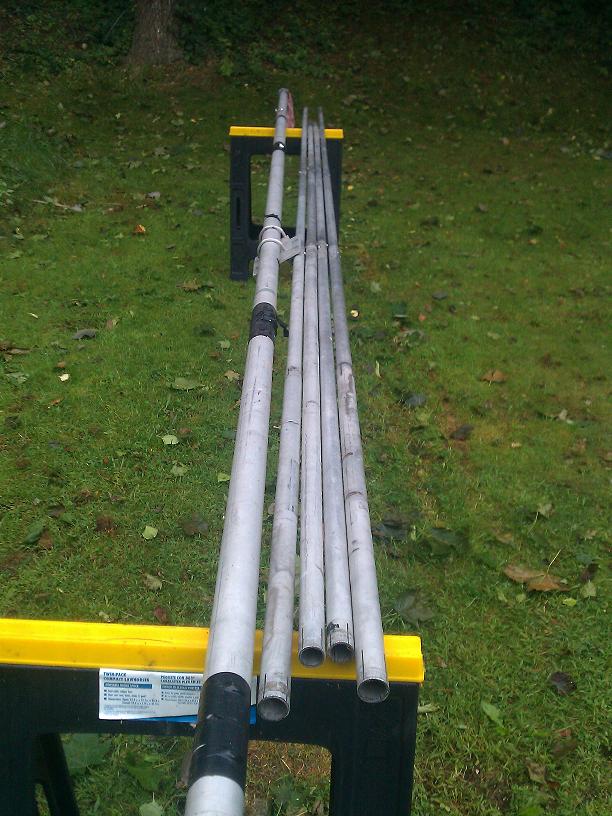 Started Drilling and bolting the sections together. They fit on the saw horses now.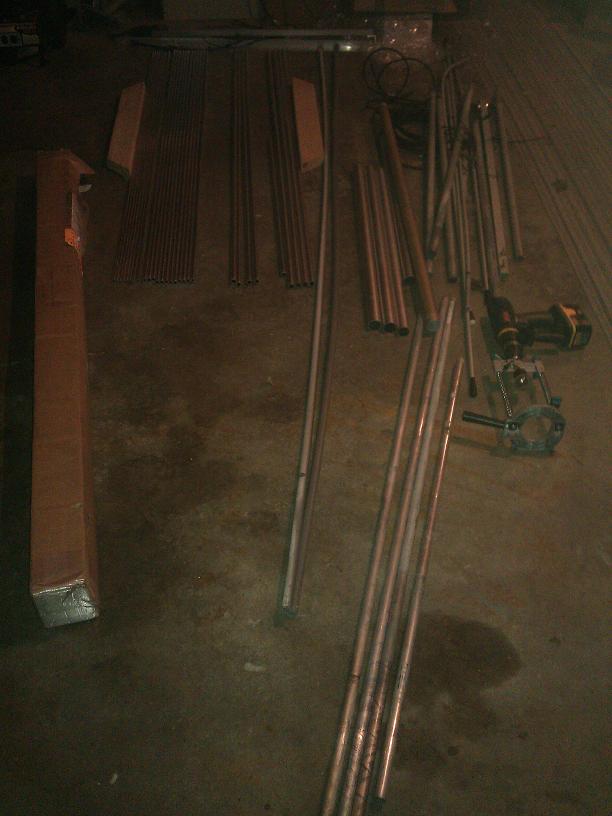 Array of aluminum waiting for elevation and RF!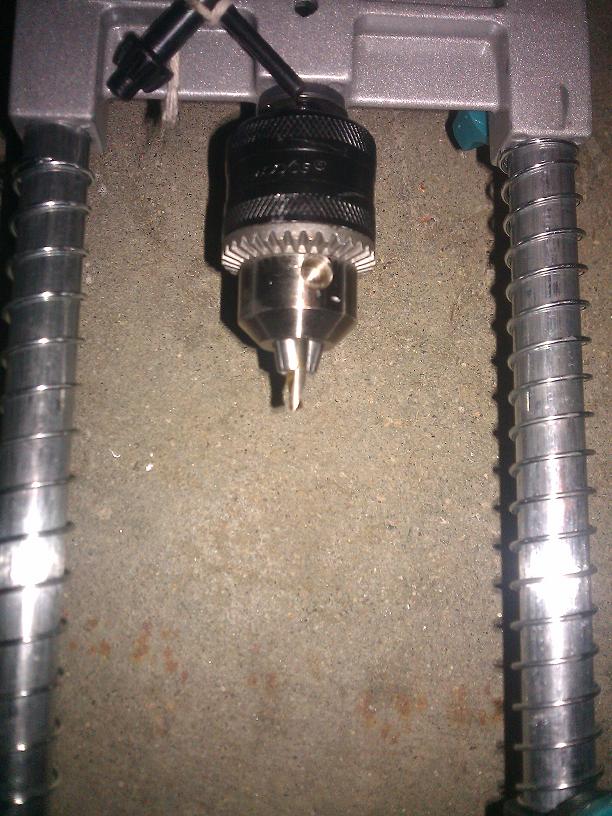 It is all fun and games until someone breaks a bit.
I used a 5/32" Bit and the #8 bolt needs to be -almost- threaded in.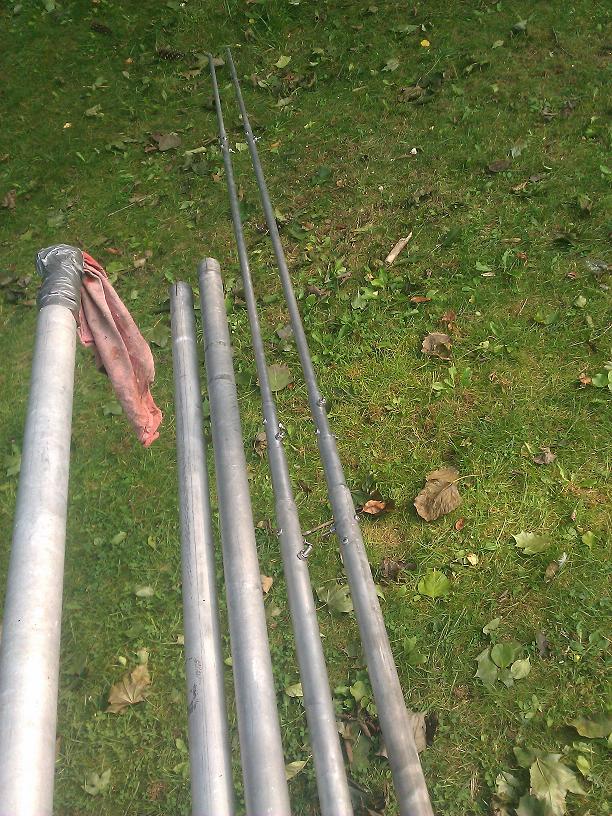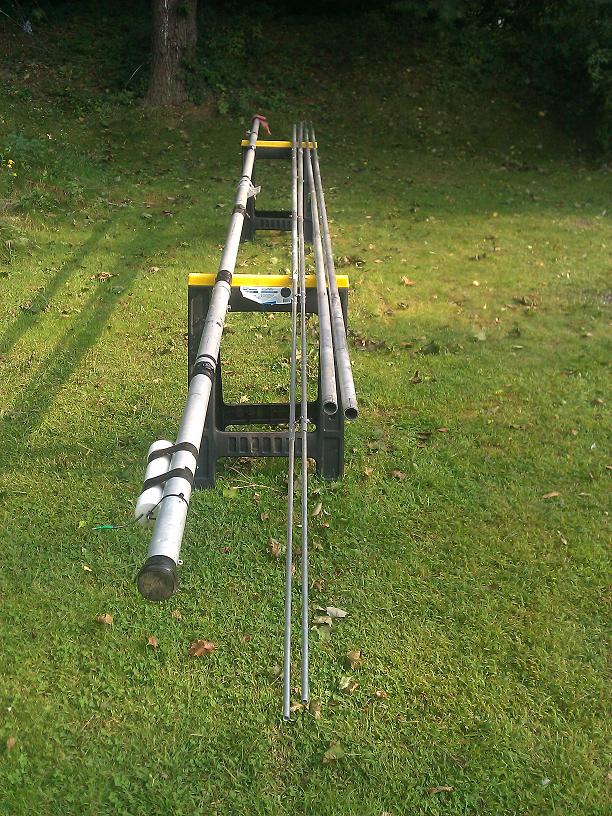 Elements are complete, only tees and Boom-Elements left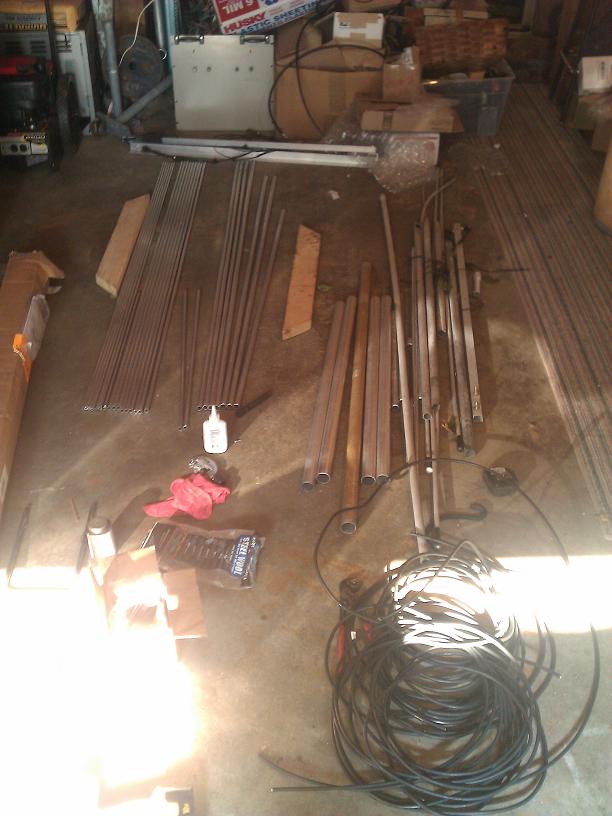 Aluminum pile is going down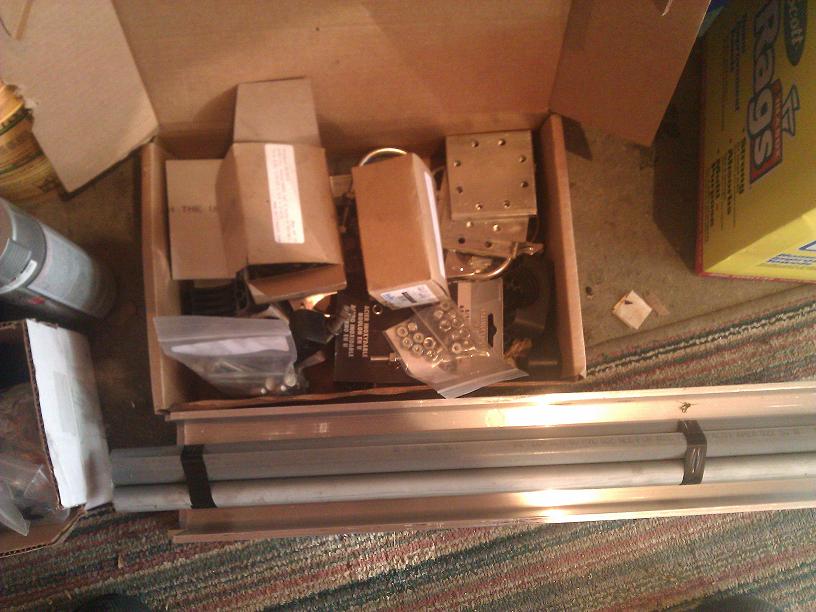 Getting all of the stuff for the Boom to Element mount together to bring to WA1VVS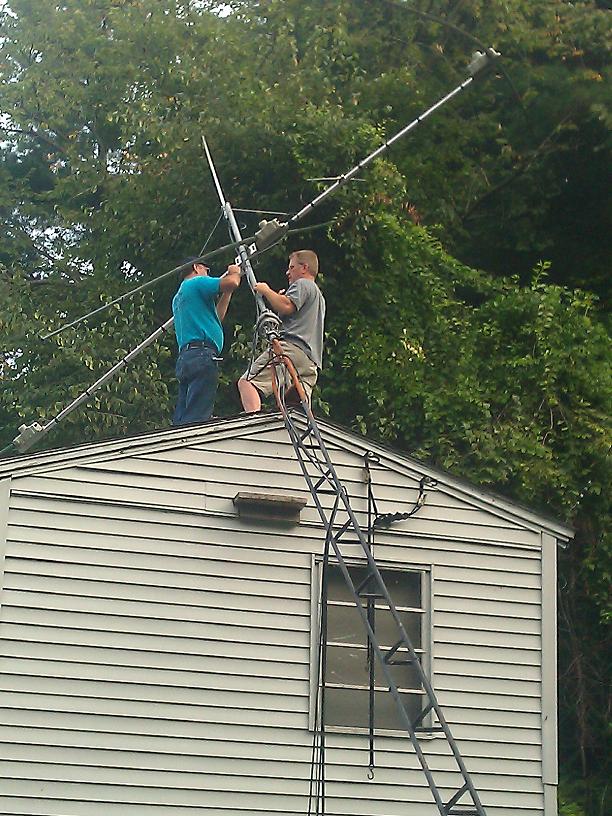 N1WK KE1LI (W1UJ's Dad, Pete not in photo) Helped take down the 3el Beam on a 35' TV tower to make way for the new stuff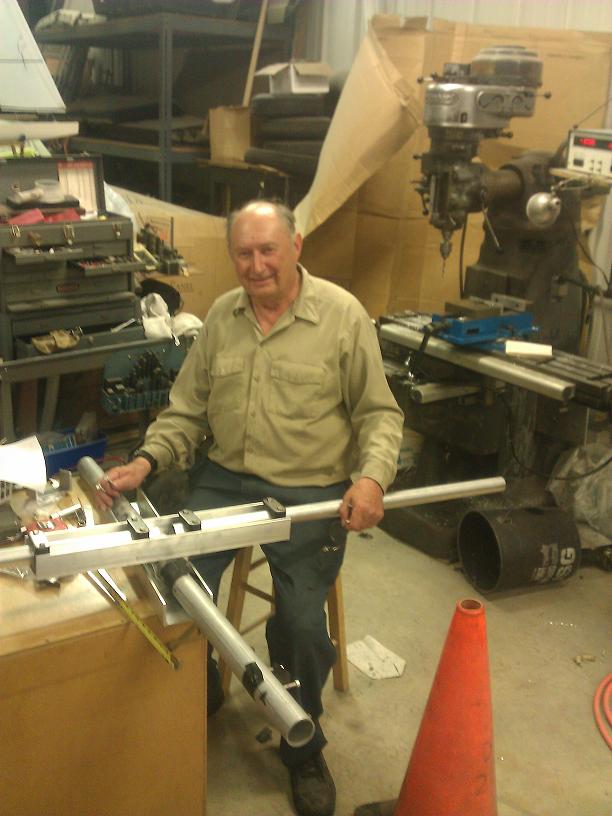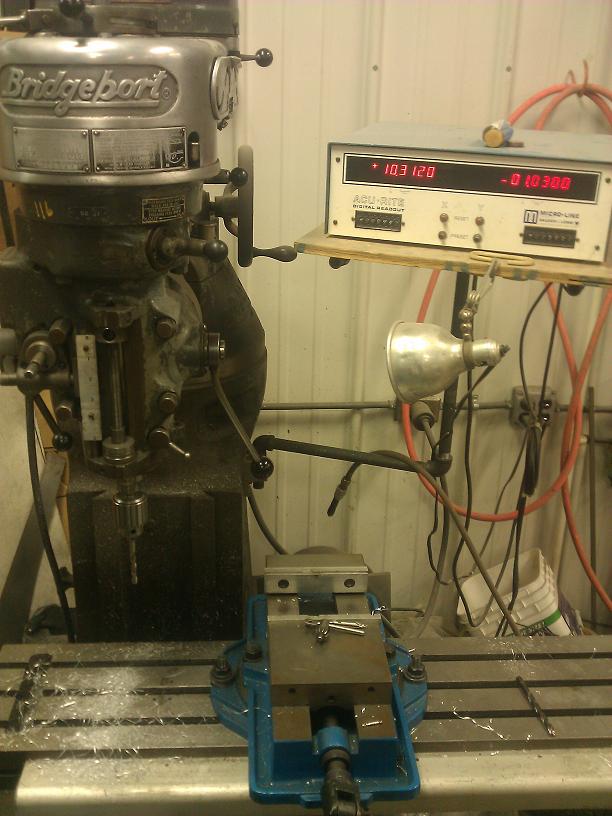 Went to visit Bud_Log Subscriber, Bob WA1VVS to check outcome of first Element-to-boom mount. Freshly carved aluminum on the Bridgeport.
It is top-notch awesome! Thanks 'VVS!!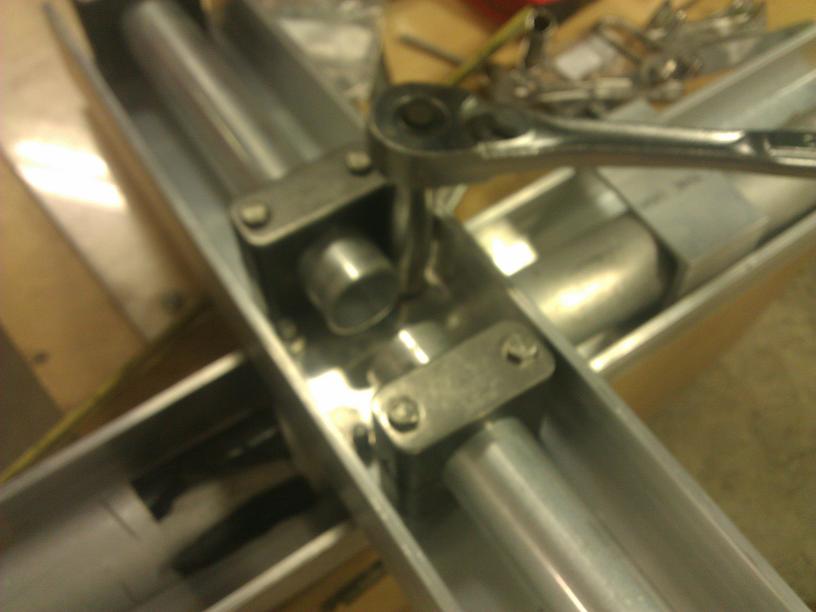 The position of a ratchet was considered during WA1VVS construction. Top notch!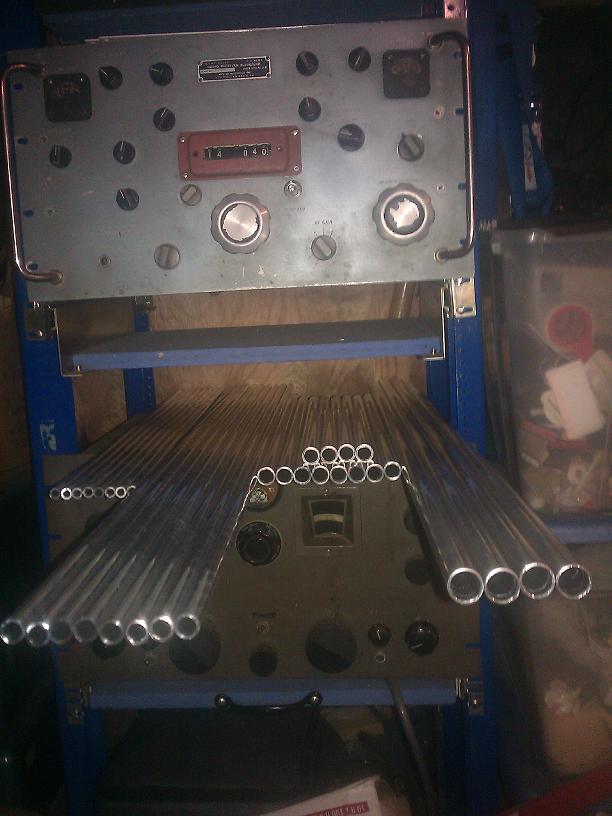 All of the aluminum cut for the 'Tees'. Using a failing tubing cutter, blisters developed on my hands
until I hit the 1/2" tubing and found out how nice a bench vice works to hold the tubing without damage-
I am getting lots of lessons on this one. K1KP can name those lengths out of memory I bet!
Temporarily re-purposed the late 1940's SP-400-x and Early 1950's R-390(non-a) military receivers in line for restoration
eventually.....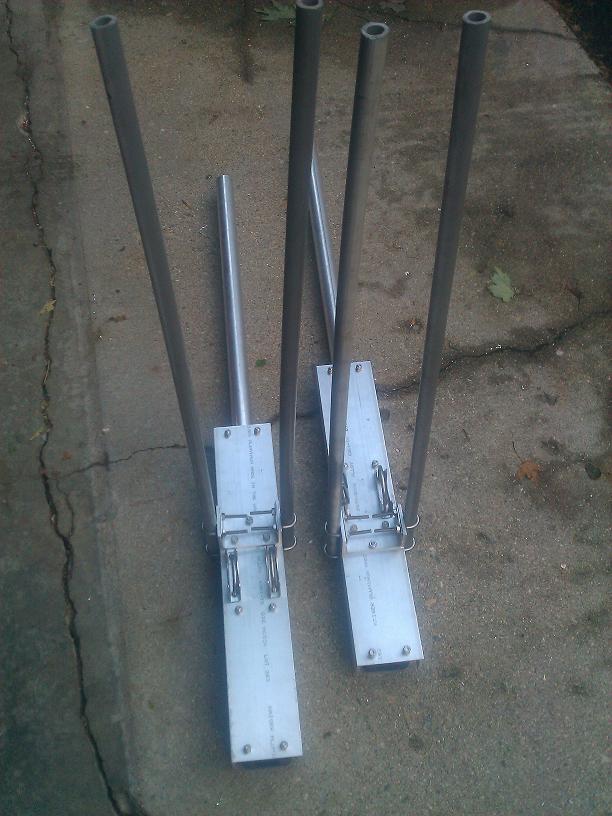 The Boom-to-Element brackets are done! Huge thanks to WA1VVS for his skillful expertise in the assembly.


The Boom-to-Element brackets are done! Huge thanks to WA1VVS for his skillful expertise in the assembly.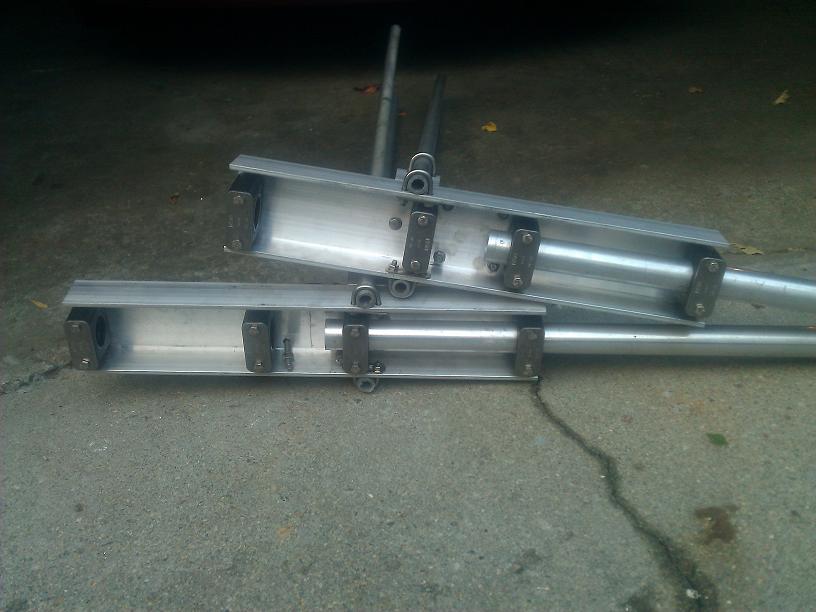 The Boom-to-Element brackets are done! Huge thanks to WA1VVS for his skillful expertise in the assembly.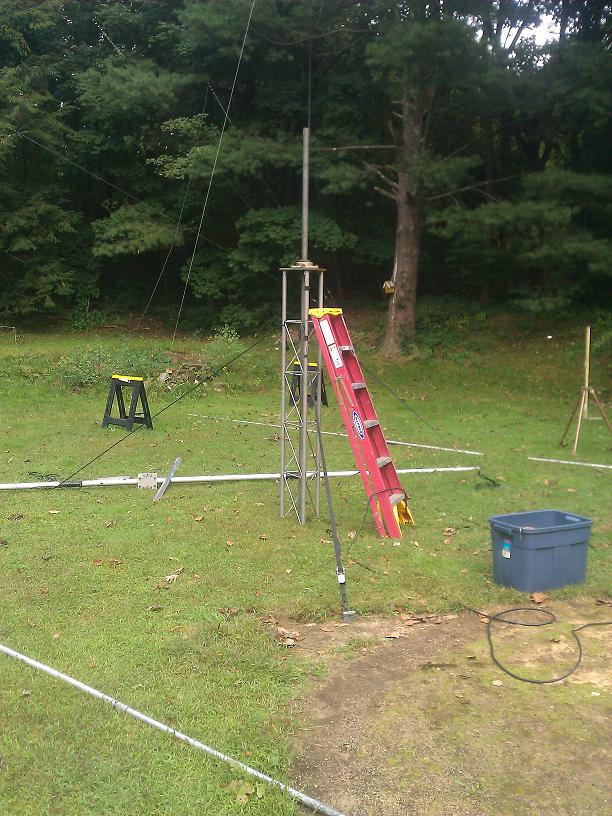 How many trip hazards can you identify?
Setting up the new staging area. Make sure everything mounts and transfer it.
Everyone will be happy to know that the old tower's Motorcycle Straps are re-purposed here!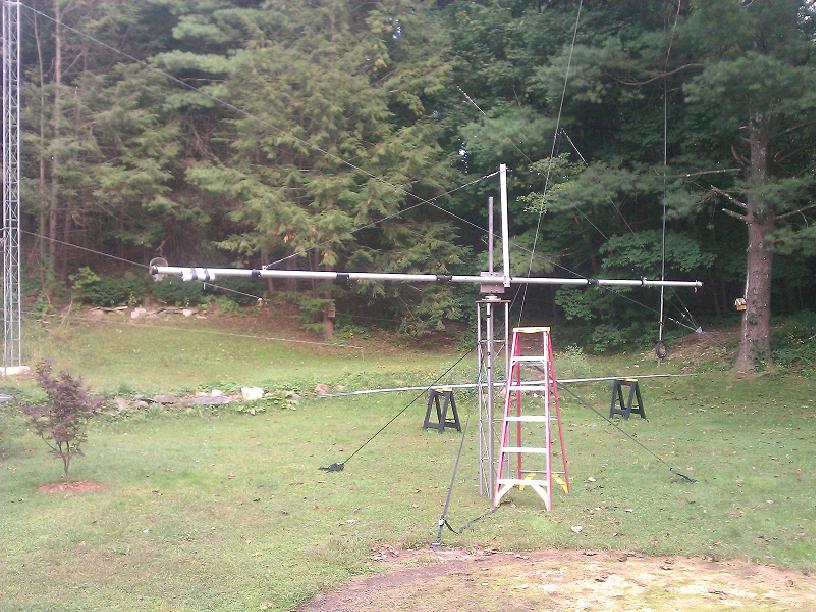 Boom and Truss Mounted. I may re-engineer this this for a bit more balance.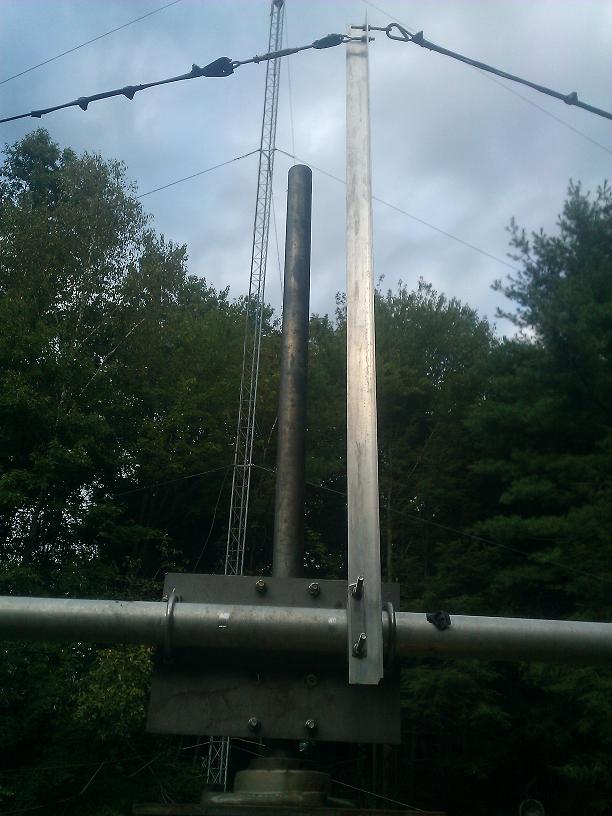 Close-up of the new Boom-mast plate and truss.




Dry Run!! Don't be fooled by the sag, the element halves are just balancing in loose clamps for a size layout
The boom 'twists' about 1/2" at every joint with little pressure, so have to disassemble and see whats in the boom
Budget overruns! Hopefully it is just the existing bolt holes oblong.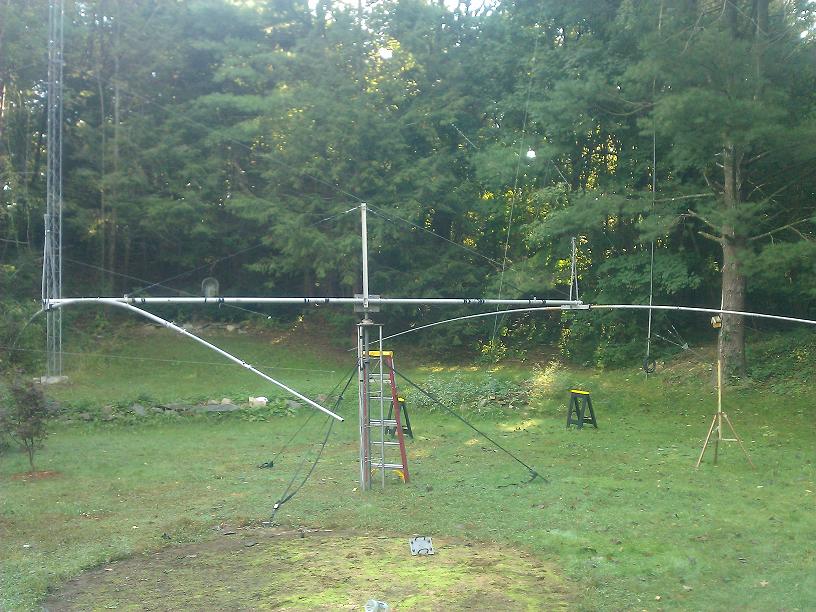 All bolted up an re-trussed the boom completely, thanks N1WK!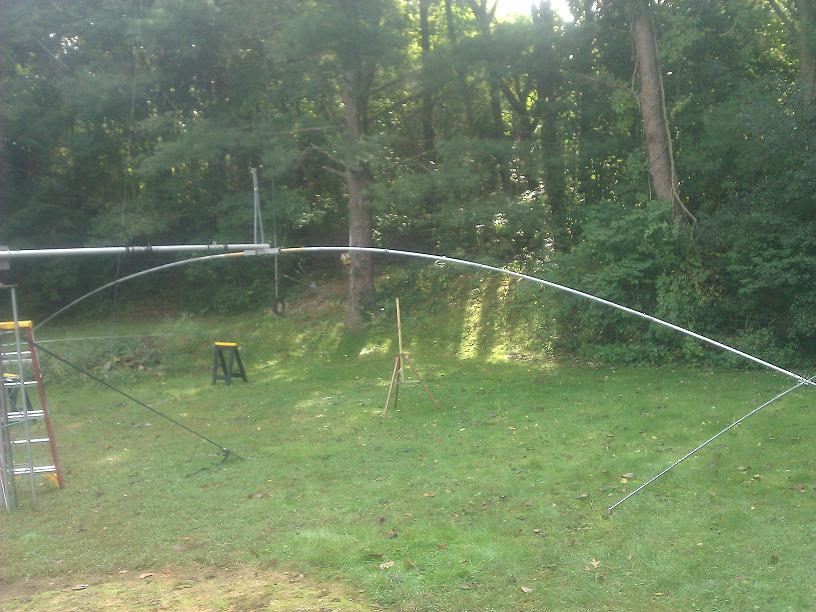 Without element trusses & Reflector Tees, lots of sag. I found the prime spot to attach to the element for trussing.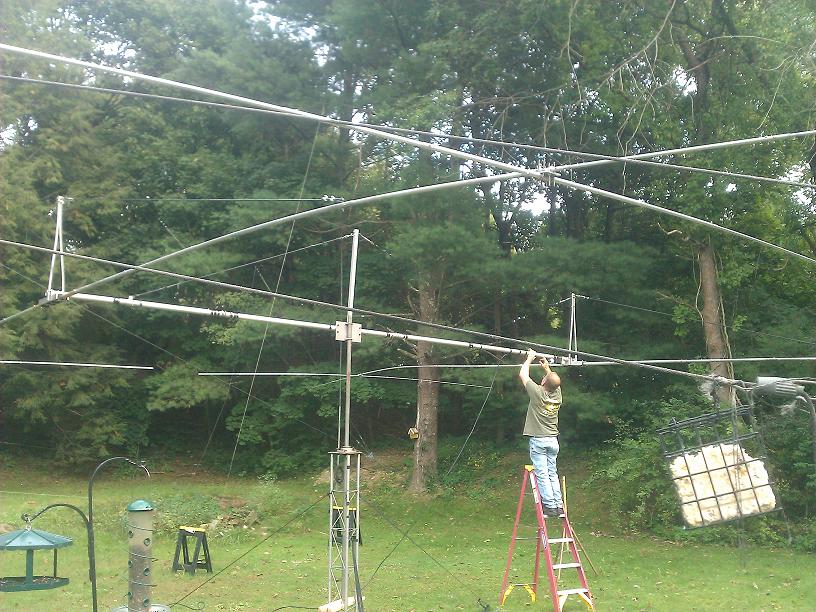 N1WK Taping up feedline.
We raised it out of eye-poking height @11' and spun it to face SW-ish for tonight's NA SSB Sprint
On the MFJ it was 1:0 at 6.8Mc.
We raised antenna on mast and mast inside tower to get 11'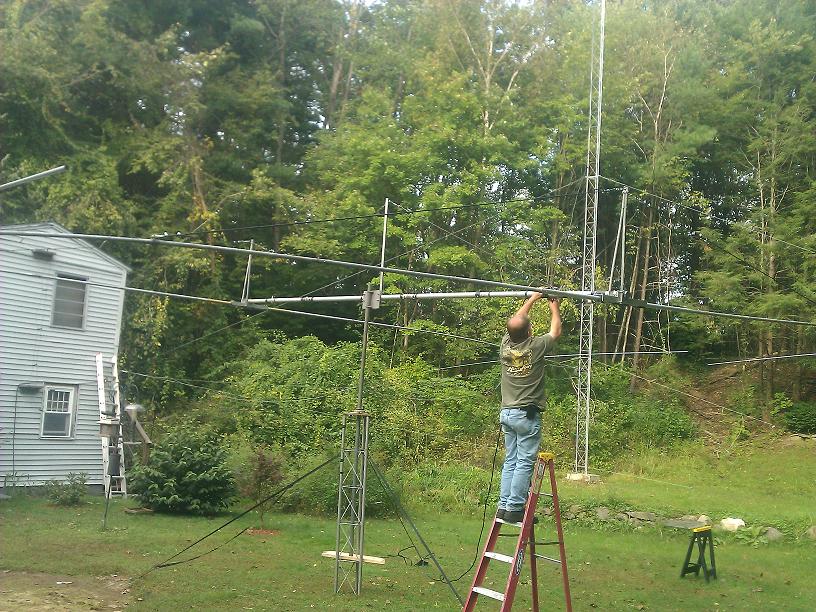 N1WK. Aimed South-west.
1.4:1 @7.200 comparing to ground mounted vertical signals were equal with much less noise on Moxon


Completed first contest on the Moxon! NA Sprint SSB. 61 QSOs on 40m- 600w with 11 measured feet elevation.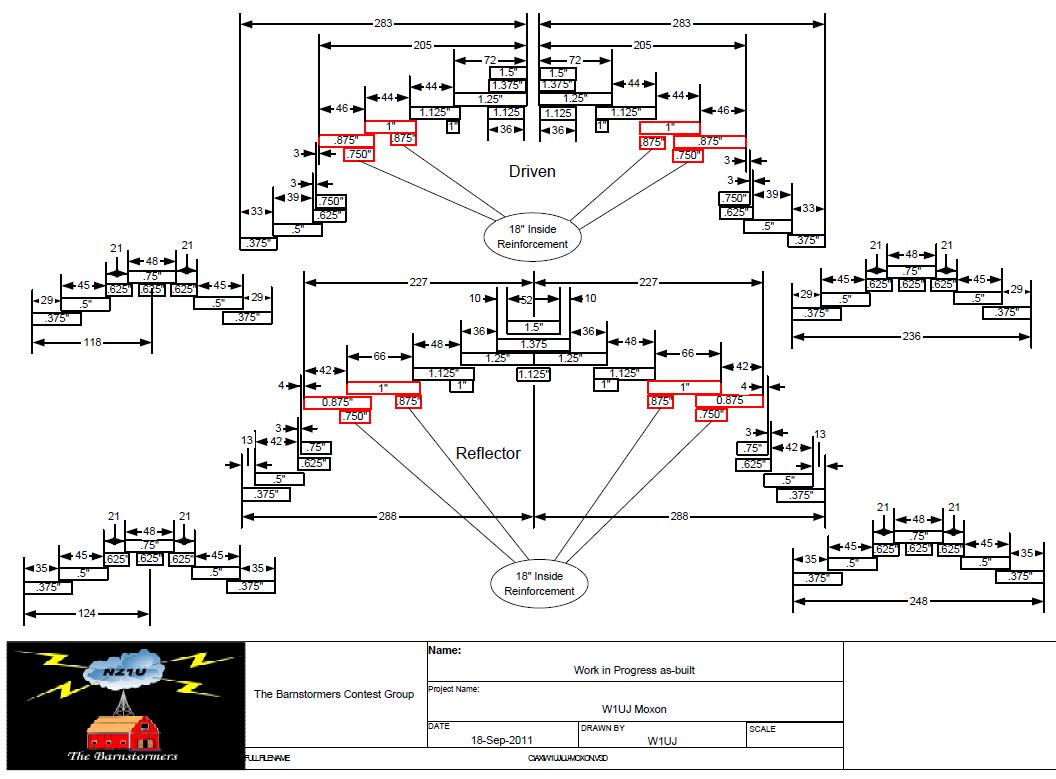 With this now built, It needs to be modified. Replacing the 1" and .875" is necessary.
The existing .875 looks like aluminum thin-walled conduit.
The Red sections need to be replaced and adding 18" inside pieces for strength.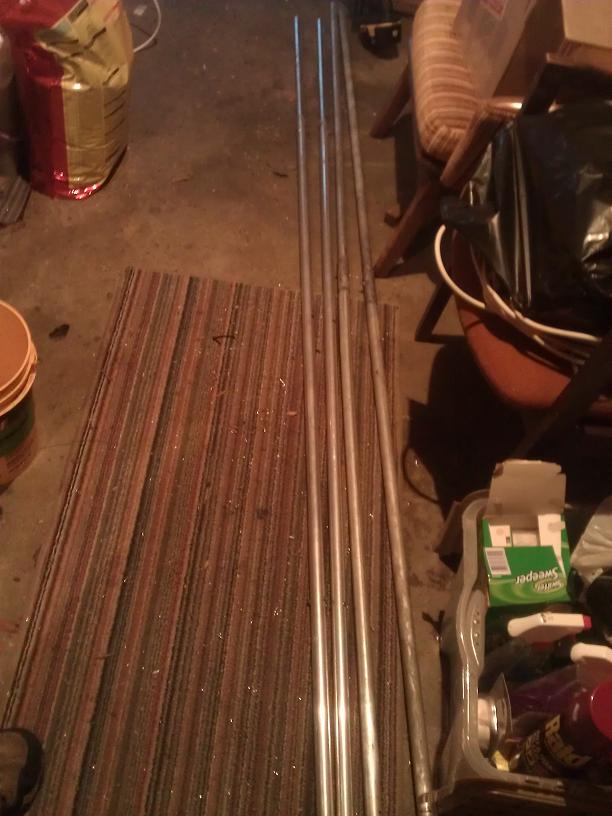 2 rebuilt/new sections on the left, 2 bent originals on the right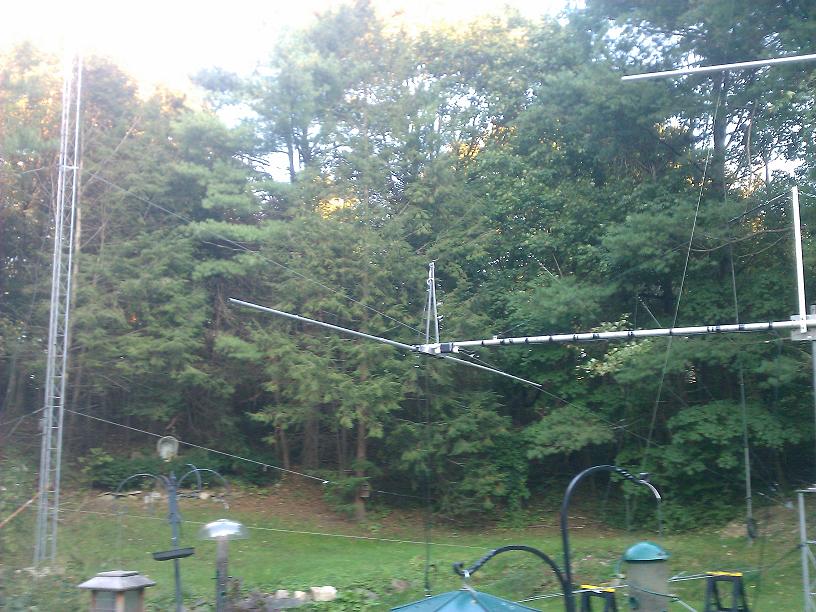 Driven element without ends..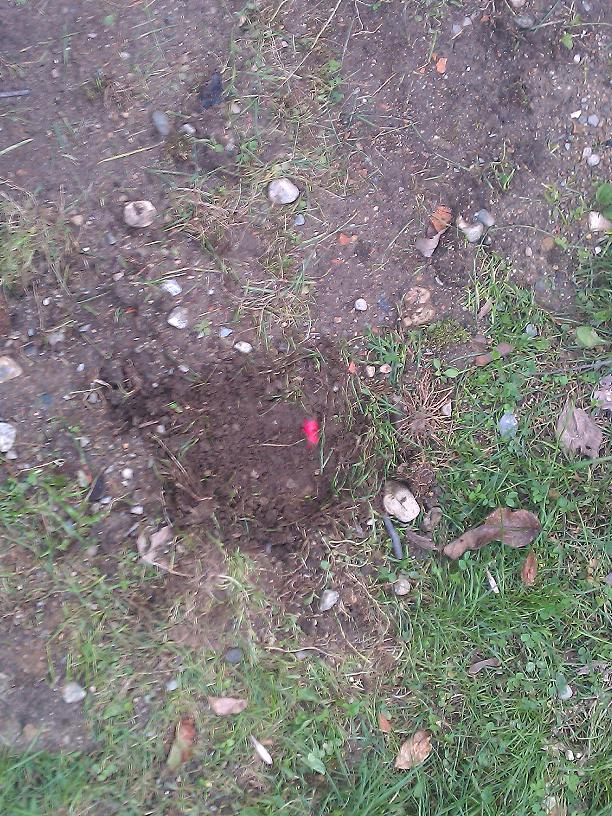 To the untrained eye, this looks like something red in the dirt.
It is a 5' screw-in anchor dug out and threaded in with 4 80# bags poured on top
Tram anchor point near the house.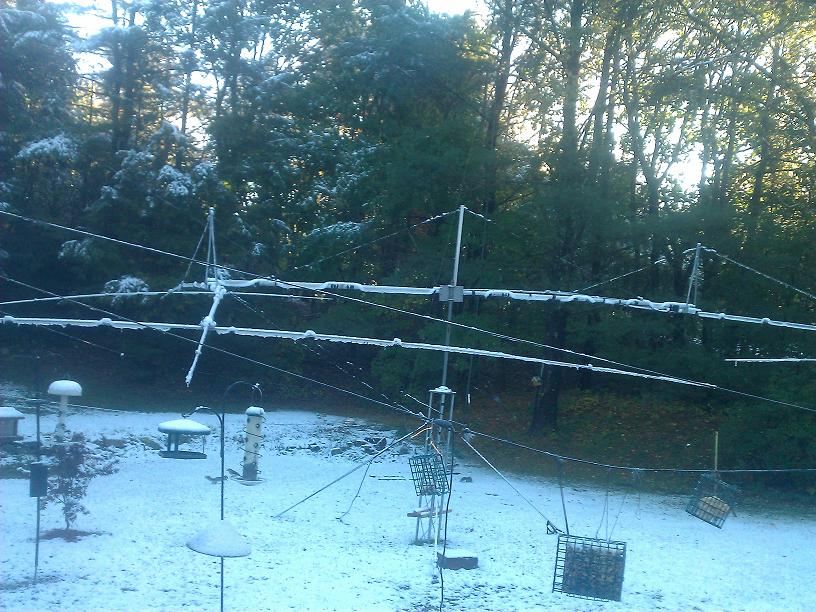 Then there was Snow-Tober with a strange Nor'Easter storm during CQWW SSB 2011.
This storm loaded the elements up with ice and revealed a potential failure spot in the trusses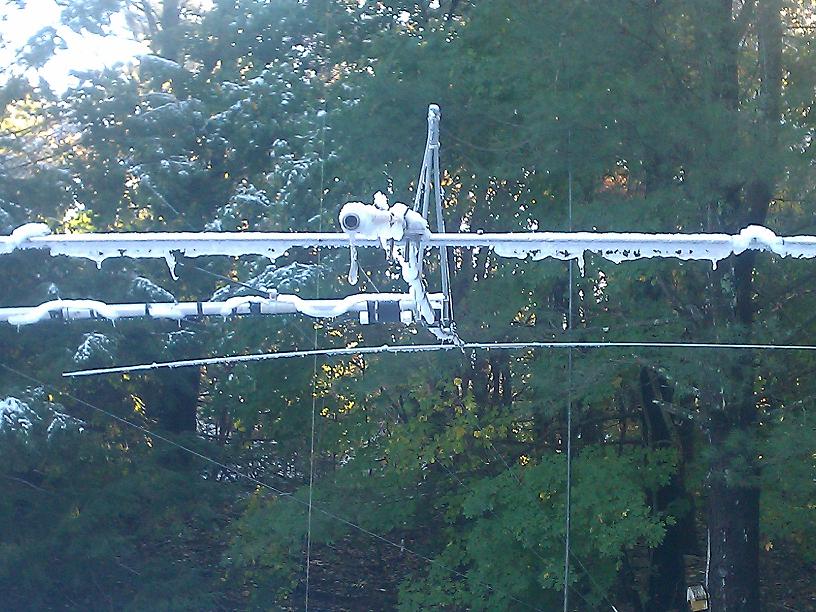 The Sch80 PVC Truss wishbones were each filled with oak dowels and adhesive caulking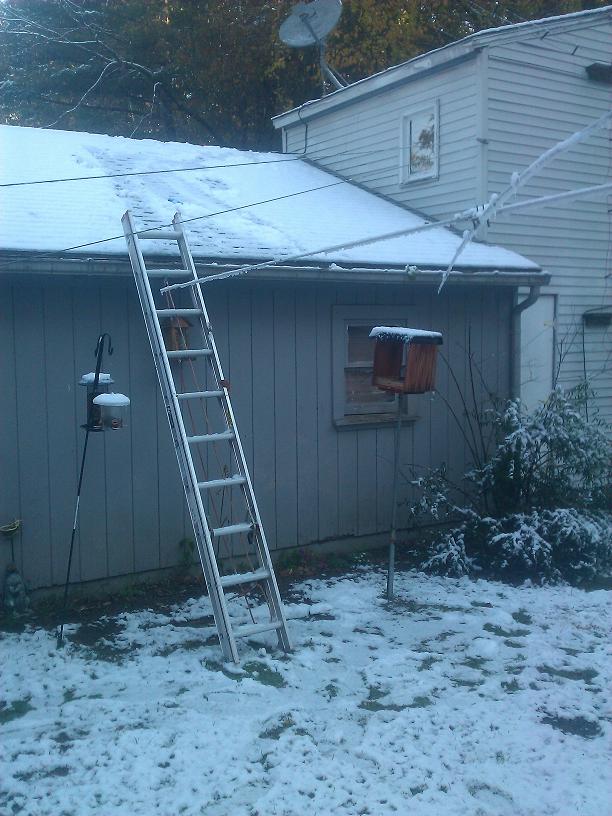 "UJ Drop Zone" (Pam coated satellite dish and Pam can be seen on roof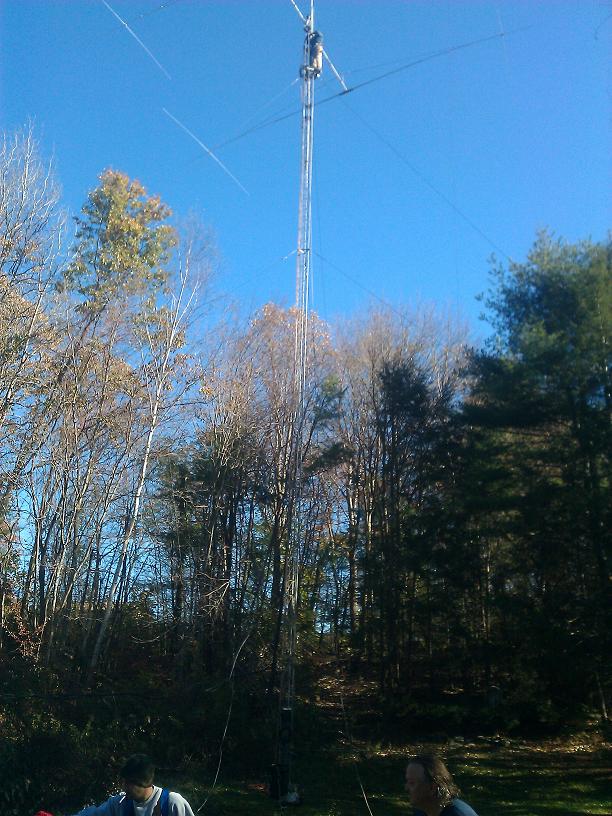 KE1LI Install day!!
Could I really have a tower and beam of my own??!!??!?
The week prior was late nights preparing and work and early Saturday antenna party
Did I mention ARRL Nov SS CW 2011 is at 5pm tonight??!!??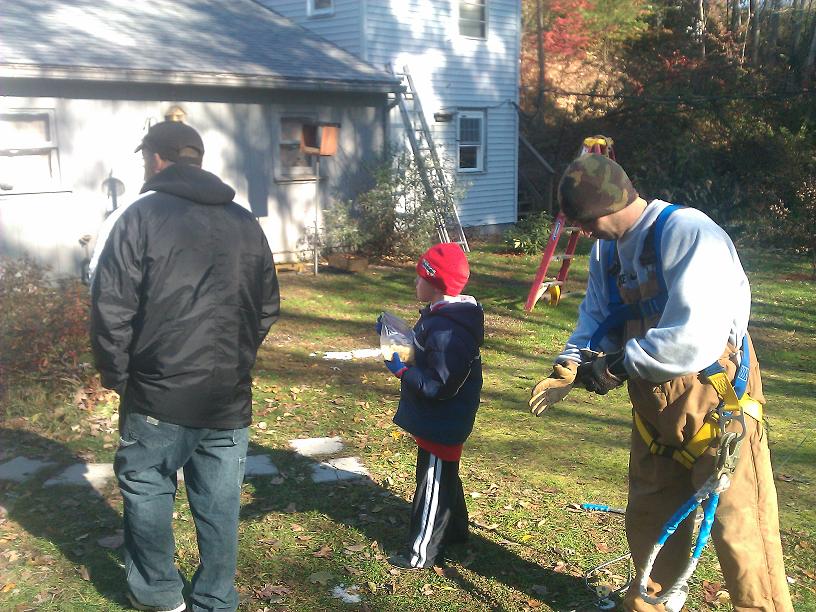 Ground crew backs, NR1X, NR1X Harmonic Connor (Jr.), NR1X Brother Mark.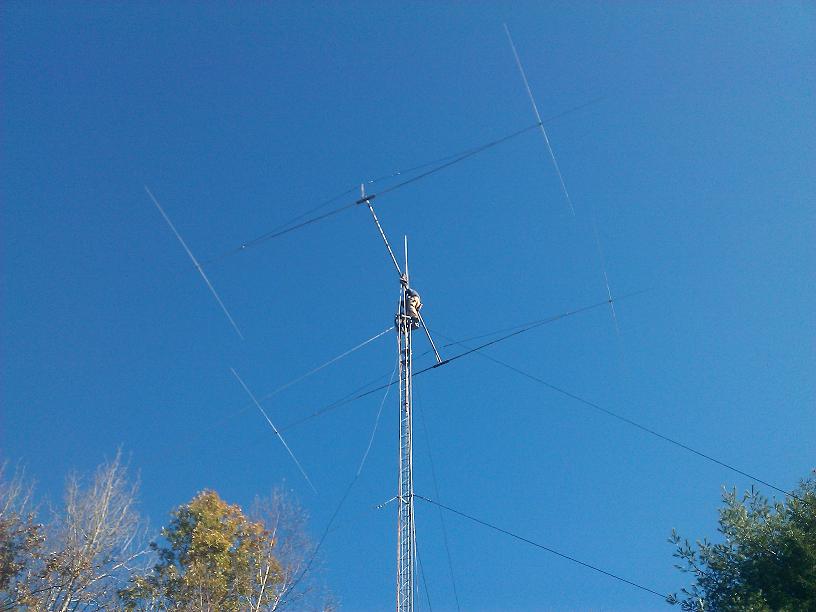 KE1LI Wrestling the monster on to the mast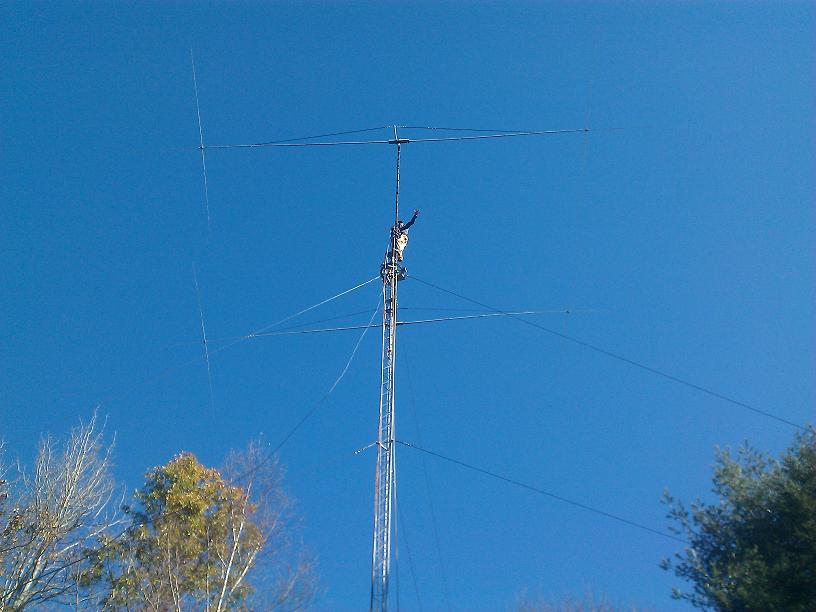 KE1LI Yeee-haw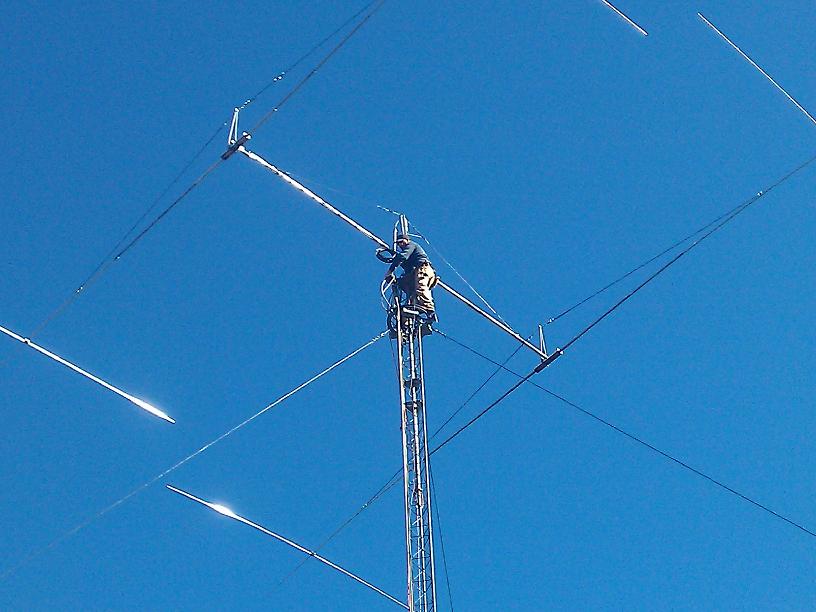 Prepping the wires/feeds and to 'hike up the mast'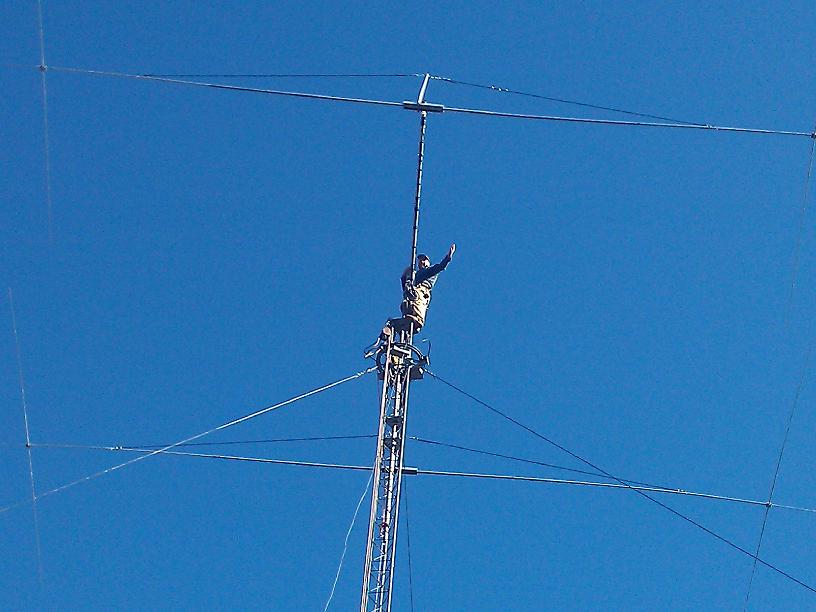 KE1LI standing on the beacon plate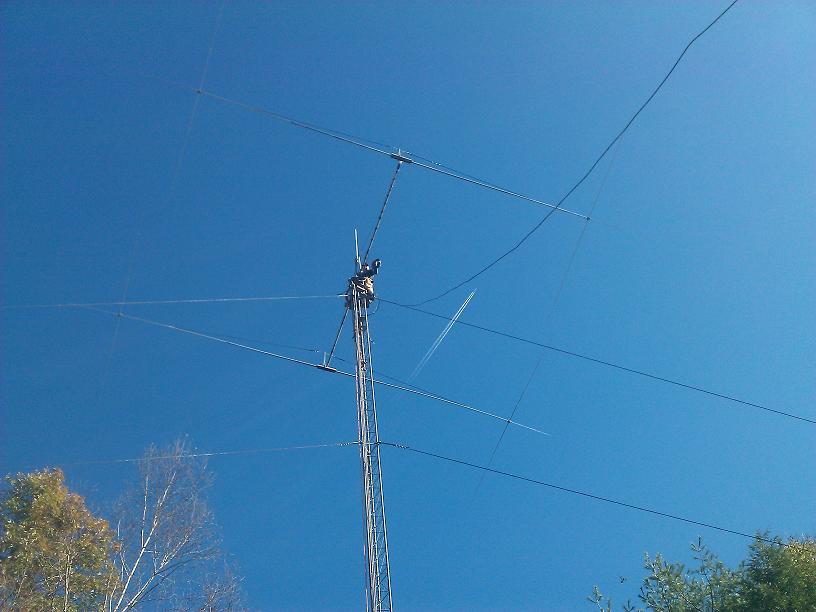 KE1LI. An amazing amount of planes flew directly overhead
I think these are from BOS / Logan.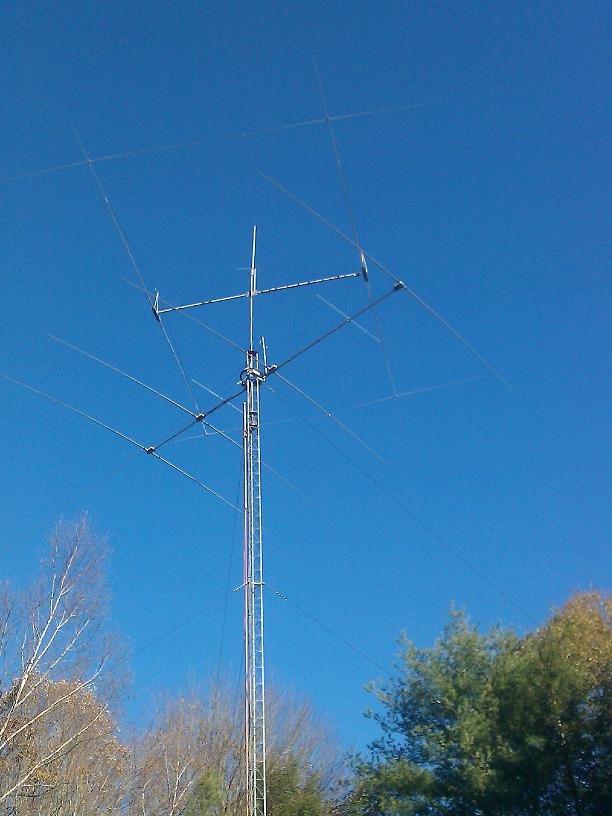 N1WK KE1LI NR1X Connor Mark Brian Shana
Without you guys this would never happen. Thank you from the bottom of my heart.
-tear-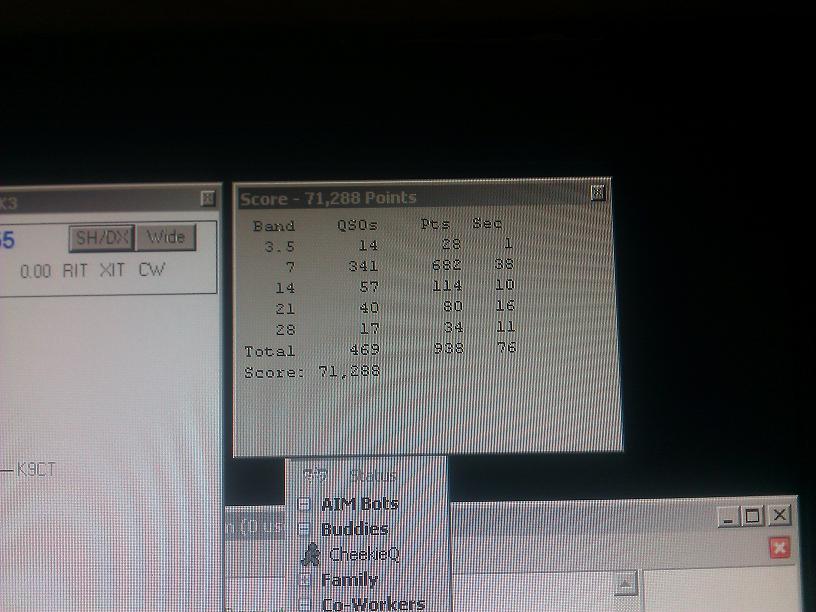 Take a look at my 40m QSO count in the SS...
The layers of stations would not stop.
Ended with 750 QSOs on 40m alone ~1200 total
I think the highest single band count of any other 3830 log at this time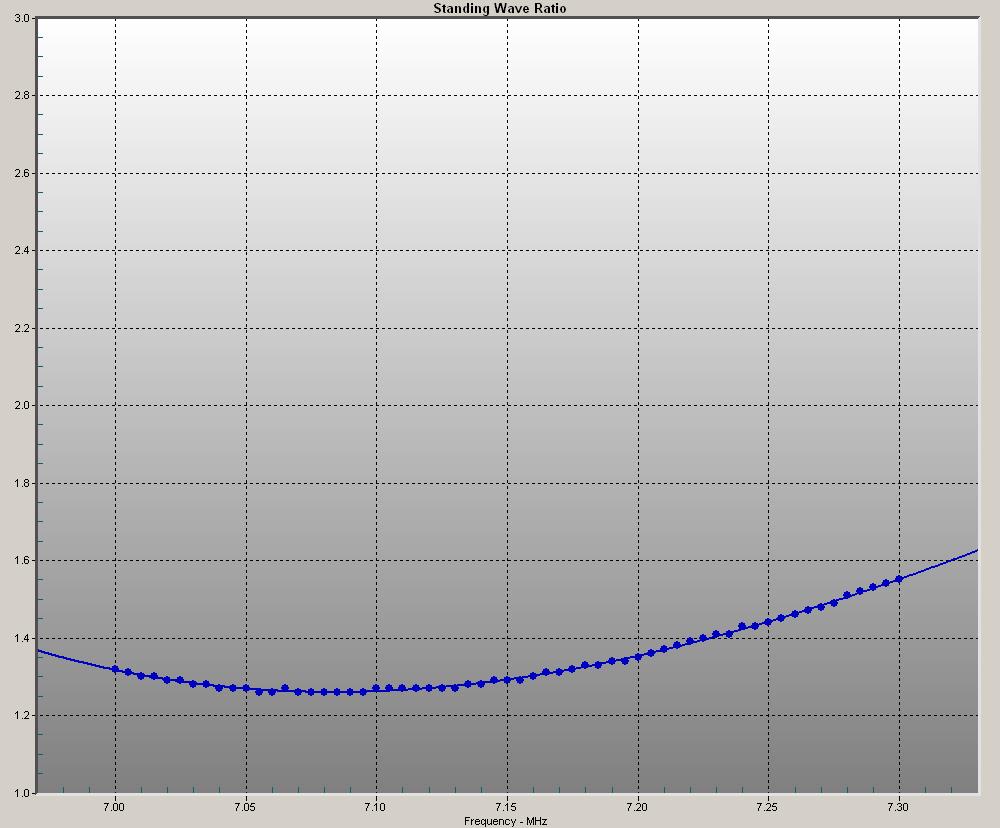 "It's Smiling at me!"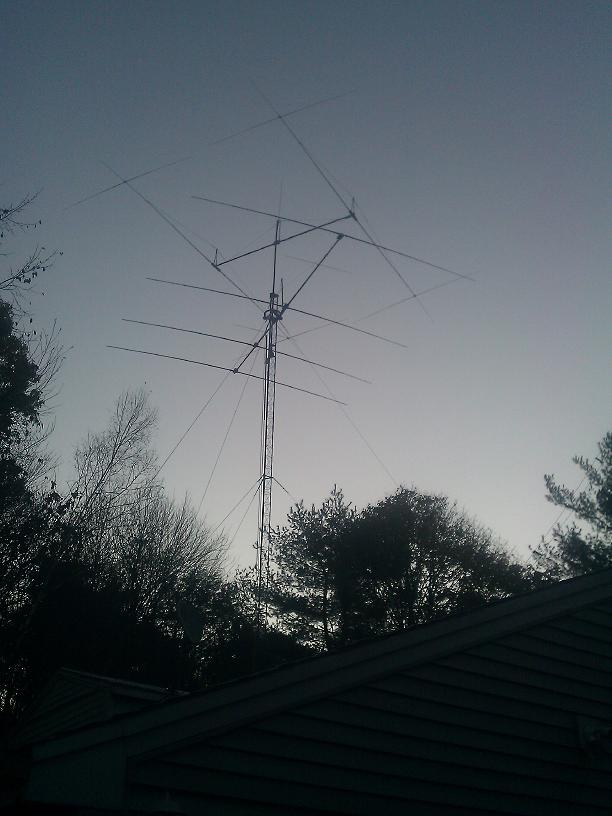 When waking to go to work Monday morning, This is what I observed....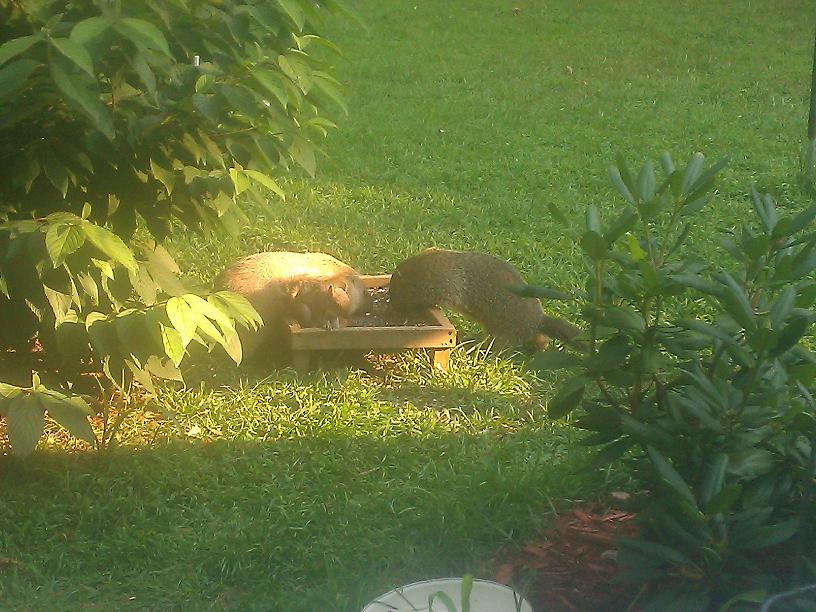 Kodak moment for KE1LI....


To return to the home page: Click here